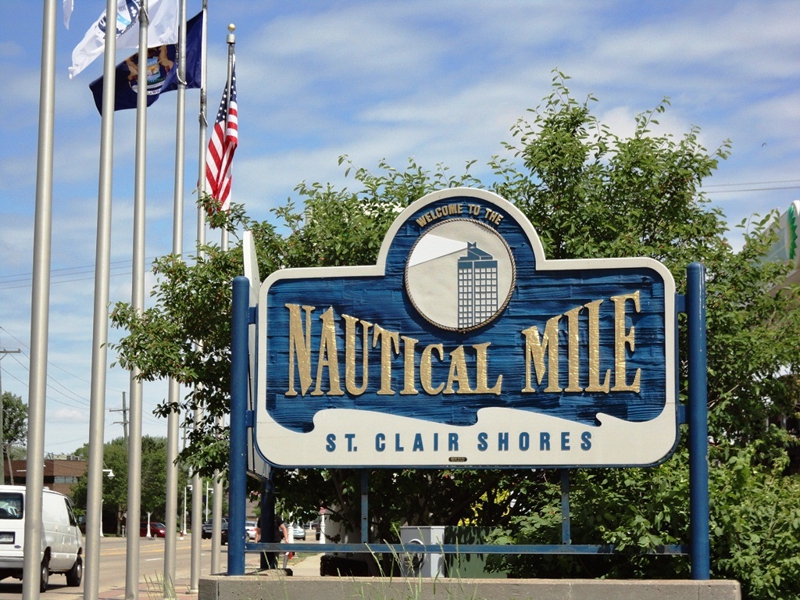 The 40th District Court has jurisdiction over matters that occur in the City of St. Clair Shores. St. Clair Shores is predominantly a suburban city bordering along Lake St. Clair from 8 Mile Road to 14 Mile Road. The Nautical Mile is a St. Clair Shores landmark located on Jefferson between 9 Mile Road and 10 Mile Road.
The 40th District Court is located on the corner of 11 Mile Road and Jefferson: 27701 Jefferson, St. Clair Shores, Michigan 48081, Phone: 586-445-5280, criminal extension #3. Honorable Mark A. Fratarcangeli and Honorable Joseph Craigen Oster presiding,
St. Clair Shores: Nautical Mile, I-94, I-696
St. Clair Shores is best known for its several miles of coastline on Lake St. Clair. The lake is a big draw for recreation and for many that choose to live in St. Clair Shores. The area has a reputation for its charm and being a safe place to live. I can confirm these attributes since St. Clair Shores is my hometown.
Most of recreational activity in St. Clair Shores arises in a dedicated zone known as the Nautical Mile. The Nautical Mile in St. Clair Shores, located on Jefferson from 9 Mile Road to 10 Mile Road,  is a Michigan landmark which consists of numerous restaurants, marinas and boat dealers along a one mile stretch of land along the Lake St. Clair shoreline.
The City of St. Clair Shores has its own police department. The interstate expressways in St. Clair Shores, I-94 and I-696, are watched by the Michigan State Police.
Criminal Cases in the 40th District Courts: Provisions of Law to Get Dismissals Available!
Our firm has represented clients charged with just about every imaginable misdemeanor and  felony crime in the 40th  District Court. The following is list of some of the most prevalent cases that we regularly see on the 40th District Court's docket:
 The 40th District Court keeps close tabs on the community to insure safe streets and recreational enjoyment. I would say that both judges take a 'hands on' approach to their cases. They use alcohol and drug testing extensively to monitor individuals that are on bond or convicted of an alcohol or drug related offense. Jail is a probable option for those that violate probation in the 40th District Court.
Getting out on bond, bond conditions: If you are arrested or arraigned on a criminal matter in the 40th District Court, you will appear either before a magistrate or judge.  Insofar as possible, it is always advisable to have an attorney present for arraignment purposes. An attorney can make a considerable difference at an arraignment hearing by advocating for a personal bond (where no money needs to be posted) or a for a low cash/10% bond arrangement. I have found that Judge Oster, Judge Fratarcangeli and the magistrate will listen to an attorney's remarks regarding bond which can save potentially thousands of dollars that a bondsman would otherwise take.  In addition to the cash component of bond, the Court can also impose bond conditions upon a person's release from jail. Drug and alcohol testing are common bond conditions for those charged with any crime involving drugs or alcohol. A 'no-contact order' is assured in assault cases, domestic violence, sex crimes and all other crimes involving a victim. In retail fraud cases, the accused party may be instructed to refrain from entering the establishment where the alleged shoplifting occurred. A motion for a hearing can always be filed to modify bond conditions, remove a no-contact order or eliminate travel restrictions.
Misdemeanor or Felony Classification: In Michigan, the district courts have full jurisdiction to dispose of misdemeanors through sentencing. A misdemeanor is classified as an offense that carries up to 1 year in jail.  Felony cases are another matter. A felony is classified as a crime that can carry more than 1 year in jail. A felony case is initiated in the district court for the arraignment, probable cause conference and preliminary examination. A felony that is not resolved in the district court will be moved to the circuit court for further proceedings. In certain cases, a felony can be reduced to a misdemeanor and can remain in the district court. Accomplishing reduction of a felony to a misdemeanor, thus avoiding a felony conviction, is considered a huge victory.
The outcome of a criminal case in the 40th District Courts, as well as other Macomb County District Courts, is dependent upon many components.  The most significant factors that can have a bearing on the disposition of a case are:
Prior criminal history of the accused party.
Cooperation with the police.
Whether another party was injured, or property was damaged.
The ability of the accused party to provide restitution for damages to the injured party.
Whether the offense is a 'policy case' (crimes against senior citizens, children).
In our experience, criminal cases can be resolved favorably at the 40th District Court. All these special provisions of law are possible in the 40th District Court which can result in a dismissal of a criminal matter:
HYTA for youthful offenders (age 17 to 23)
 MCL 333.7411 for first time drug offenders
MCL 769.a for domestic violence.
Delayed Sentence or Deferral
Drunk Driving Cases in the 40th District Court
For most first time drinking and driving offenders, jail is not likely in the 40th District Court absent some other aggravating circumstances. A person without any prior drinking and driving offenses can expect to get an OWI reduced to 'operating while impaired' in the 40th District. It is both extremely difficult and rare, but not impossible, to get a drinking and driving offense reduced to a non-criminal offense. If a person is charged with Super DUI (BAC .17 or greater) a deviation may need to be filed to get a plea bargain to a lower offense. In 2016, there were approximately 100 arrests for operating while intoxicated related offenses in St. Clair Shores and 42 registered a .17 or more.
1st offense drinking and driving: As I stated, the 40th District Court utilizes probation, alcohol and drug testing extensively.  A short or long period of counseling may also be imposed depending upon the circumstances. Those with a history of alcohol or substance abuse, or that register a high blood alcohol content (BAC), can expect a longer period of counseling.  In addition to probation, a person convicted for a first drinking and driving offense (operating while impaired) is looking at:
Probation for 1 year or less
Fines and costs approximately $1,200.00
Restricted license for 90 days
Attend an alcohol or substance abuse program
Possible drug testing, alcohol testing, AA meetings
4 points on driving record
There are other mandatory and discretionary sanctions associated with a drinking and driving conviction including: driver responsibility fees, probation oversight expenses and vehicle immobilization. The Court can also order installation of an ignition interlock system on any vehicle driven by a person convicted of a drinking and driving offense.
A repeat drinking and driving offender may be looking at a longer period of probation, up to 2 years, with the possibility of some jail time.  There are many steps that we can recommend to those charged with a repeat offense to reduce the likelihood of incarceration in almost every Macomb County District Court.
The 40th District Court Probation Department: 27701 Jefferson, St. Clair Shores, Michigan 48081
The 40th District Court has its own probation department located inside of the courthouse.
It is within the judge's discretion whether to place an individual on probation after being convicted of a criminal or drunk driving offense. When probation is imposed, the judge may require reporting or non-reporting probation.  The maximum period of probation that can be imposed in the district courts is 2 years.
Traffic Violations in the 40th District Court: Reduced to Avoid Points and Record of any Conviction!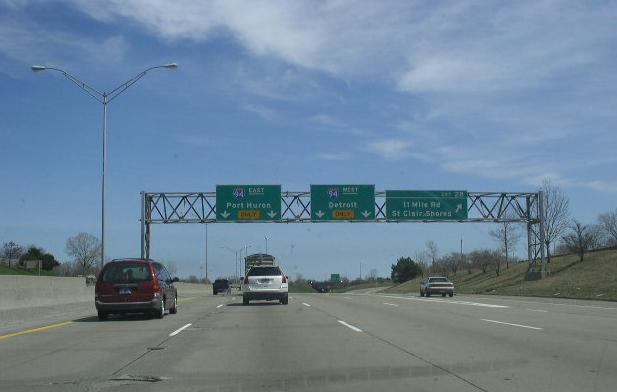 Like other district courts in Macomb County, I would say that traffic tickets are on the top of the list of types of cases that are litigated at the 40th District Court. The presence of I-94 and I-696 contribute to the traffic volume in St. Clair Shores.  When resolving a traffic matter in the 40th District Court, we are often able to negotiate a reduction or avoid points. A substantial reduction in a traffic ticket occurs when it is reduced to an offense such as impeding traffic or double parking. A traffic ticket that is reduced to impeding traffic or double parking does not carry any points and will never appear on a person's driving record! We are also able to get favorable results for individuals charged with misdemeanor traffic offenses such as driving while suspended, reckless driving and leaving the scene of an accident. Unfortunately, most individuals that receive a traffic ticket do not hire a lawyer and wind up with a record and points that will have an impact on insurance premiums for several years. The path of least resistance, paying the ticket, can be much costlier in the long run.