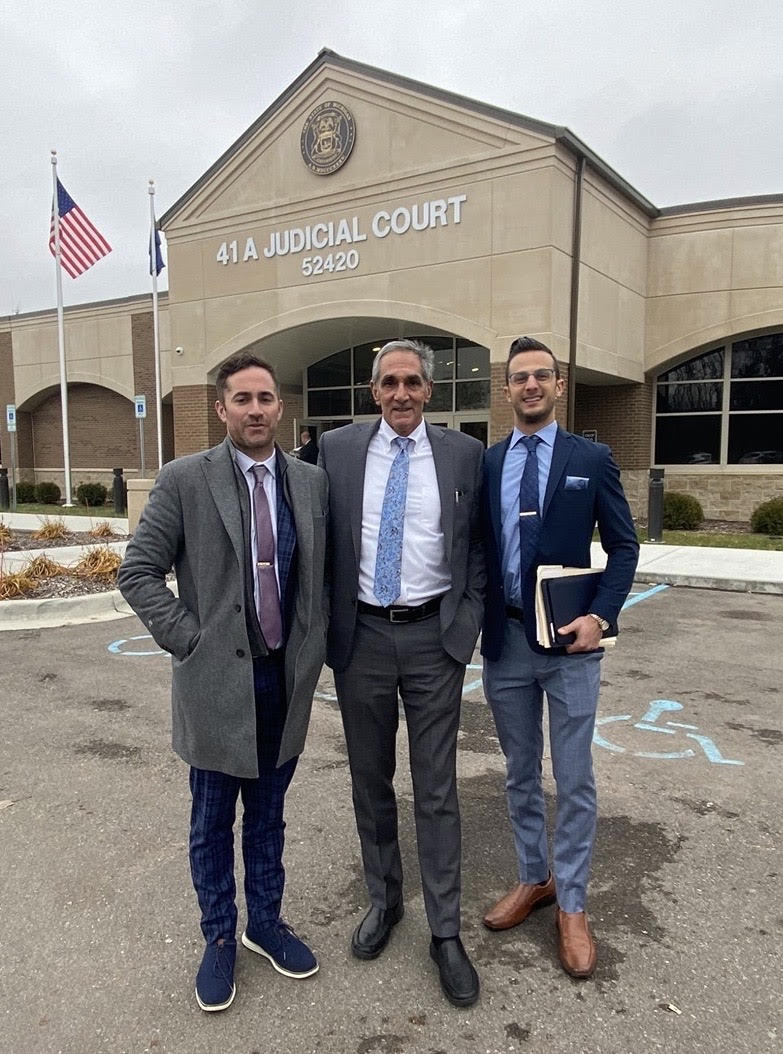 Crime Classifications/Misdemeanor or Felony
In Michigan, crimes are classified as either misdemeanors or felonies. The maximum term of incarceration determines whether a crime is classified as a misdemeanor or felony. A misdemeanor is defined as a crime that carries 1 year or less in jail. A felony is defined as a crime that carries more than 1 year, up to life, in prison. Felony representation link.
There are hundreds of offenses that are classified as misdemeanors in Michigan. In our experience, the following are the most prevalent misdemeanor crimes that you will find on the dockets of Metro Detroit (Wayne, Oakland, Macomb) district courts:
Each of the above offenses constitutes a crime. Upon conviction, the offense will appear on a person's permanent public criminal history with the Michigan State Police and the FBI. With some exceptions, most misdemeanors are eligible for expungement.
Our research indicates that there are several thousand arrests in Michigan for misdemeanor offenses. Drunk Driving cases account for roughly 10,000 arrests each year in the Counties of Macomb, Oakland and Wayne. Retail fraud and larceny crimes are also extremely common criminal offenses. In 2018, approximately 20,000 property crimes were reported in Macomb County alone. Property crimes include retail fraud, MDOP, other larceny crimes, joyriding and embezzlement.
Certain misdemeanor offenses may be more prevalent in a particular geographical area because of specific police activity. For example the following criminal offenses are targeted by the police and thus more prevalent in these areas:
Macomb County District Courts
We have dedicated this  article to give you the big picture on the topic of misdemeanors in Macomb County. This project is based upon our experience handling more than 10,000 criminal cases in Michigan. Misdemeanor cases are handled in the local district courts for each county. The district court system in Michigan is broken down based upon population. This map illustrates the jurisdictional picture of the district court system in Macomb County where misdemeanor cases are adjudicated: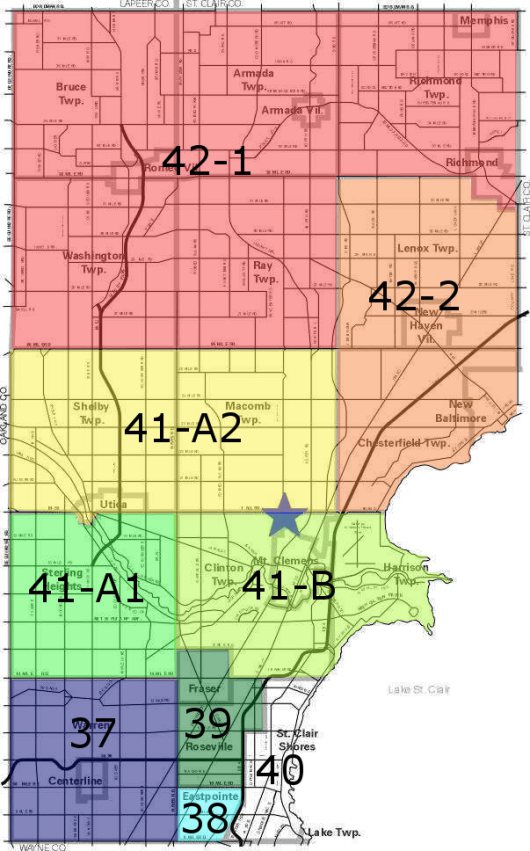 The list below contains links to the district courts located in Macomb County:
Penalties  and Consequences for Misdemeanors
Misdemeanors are extremely serious matters. The presiding district court judge has vast power to sentence an individual following a conviction for a misdemeanor. The list of potential penalties and consequences for a misdemeanor conviction are as follows:
Jail: Up to 1 year incarceration.
Fine, court costs and cost of prosecution in the judge's discretion.
No limit on restitution for any loss, injury or damage to victim(s) or third parties such as insurance companies.
Probation for up to two (2) years.
Probation for up to five (5) years for stalking.
Substance abuse counseling, attendance of AA meetings.
GPS monitoring (in cases such as stalking).
Loss of right to obtain a concealed pistol license (CPL) for a period of 3 years or 8 years, depending upon the offense.
Suspension or revocation of driver's license for traffic misdemeanors and OWI.
Points added to your driving record for traffic misdemeanors and OWI.
No contact order as a bond condition and during the entire period of probation.
Alcohol and drug test testing as a bond condition and during the entire period of probation.
Travel restrictions as a bond condition and during entire period of probation.
Reporting to a probation officer at intervals to be determined by the judge.
Deportation for non-US citizens upon conviction of misdemeanors that constitute crimes of moral turpitude.
Getting an experienced criminal defense attorney can be the best decision that you can make if you are charged with a misdemeanor. There may be ways to avoid a conviction altogether, have the offense reduced or amended and avoid many of the penalties and consequences as listed above.
Getting a Misdemeanor Case Under Control
A misdemeanor needs to be taken seriously. Fortunately, there are distinct provisions of law in Michigan designated to obtain a dismissal of a misdemeanor without going to trial. These provisions of law afford an individual a chance to get a criminal charge dropped after completing a period of probation and complying with the terms of probation. The following is a list of provisions used extensively in every Macomb County Court with links for expanded explanations:
Although the above provisions are widely used and have enormous benefits, they are not without consequences. Once in the system for a criminal offense, a court file and police record are generated. Even if a case is later dismissed under a special provision of law, there can be a record floating around that should have been suppressed or sealed. In addition, there are always certain government and police agencies, along with other sensitive institutions, that are able to see every entry of a person's record, even for matters that are dismissed under a special provision of law.  An experienced criminal defense lawyer can look for ways to strategically handle a criminal matter to get the most favorable resolution to avoid a trail of negative entries on a person's record.
Retail Fraud/Shoplifting Can be Dismissed in Macomb County
Retail fraud is the name given for the crime of shoplifting in Michigan and it is always one of the most prevalent crimes that we see in every courtroom in Macomb County. The offense of retail fraud is committed by taking something from a retail establishment with the intent to steal. The crime is accomplished by the intentional concealment of goods, changing a price tag/package or by attempting to defeat the scanning process. Retail fraud is a serious crime and constitutes a crime of moral turpitude that will result in deportation for those that do not have United States citizenship. The penalty for retail fraud depends upon the value of the goods:
Retail Fraud First Degree (value of goods $1,000.00 or more): Felony punishable by up to 5 years imprisonment.
Retail Fraud Second Degree (value of goods $200.00 up to $1,000.00): Misdemeanor punishable by up to 1 year in jail.
Retail Fraud Third Degree (value of goods up to $200.00): Misdemeanor punishable by up to 93 days in jail.
Virtually every major retailer (Kohl's, Target, Walmart, Meijer, Sam's Club) utilizes loss prevention employees to deter shoplifting and apprehend shoplifters. Once charged with this crime, an attorney's services are crucial to find a way to avoid a conviction in the criminal justice system. First offenders almost always qualify for a plea bargain to get the matter deferred and dismissed. The terms of the probation can differ depending the court and whether the judge believes the offender needs to be supervised or non-supervised. Non US Citizens need to hire a lawyer to avoid a "theft" related conviction altogether to avoid deportation.
Avoiding Traffic Misdemeanors
Not all traffic offenses are created equal. Traffic offenses are classified as civil infractions or misdemeanors. Civil infractions, such as speeding, are considered less serious. Misdemeanor traffic offenses often carry greater points (6 in many cases), possible jail and appear on a person's criminal record.  In Michigan, the following offenses are misdemeanors:
Reckless Driving
Leaving the Scene of an Accident
Driving While License Suspended
We look for ways to reduce the impact of a traffic misdemeanors by scheduling a pretrial conference with the prosecutor to seek meaningful reductions. This often can result in a misdemeanor being reduced to a civil infraction thereby saving a person from having a criminal record. In addition, getting a traffic misdemeanor reduced to a lower offense can also result in meaningful reduction in points and insurance premium savings.
Operating While Intoxicated 
As we have said, Operating while Intoxicated (OWI) is always one of the most prevalent crimes on every district court docket. Like most people, you have probably not heard of the Michigan Drunk Driving Audit. The Michigan Drunk Driving Audit is a website which compiles detailed statistics regarding drunk cases based upon  information obtained from police agencies and courts. In 2018, there were approximately 2,200 individuals tested for drugs or alcohol and most resulting a criminal charge of operating while intoxicated or under the influence of drugs. The statistics are further broken with details as to the number of individuals with a blood alcohol content of (BAC) of .17% or greater. In 2018, approximately 750 individuals in Macomb County that provided a test result were positive for alcohol at .17% or greater, constituting "Super Drunk Driving".
There are many legal and technical aspects to a drunk driving case. At the very least, you probably have the following questions if you are facing a drunk driving offense:
Can the case be dismissed?
Can the charge be reduced?
Am I going to jail?
What will happen to my license?
Why did they destroy my license?
Was I required to give a blood test or take a breathalyzer test?
Can an attorney get the police in-car video and body-cam video?
We are here to answer every single one of your questions and find the best solution to avoid a conviction and avoid incarceration. A misdemeanor can have an impact on a person's employment, gun rights or ability to obtain a position of trust. CONTACT the Super Lawyers at ABDO LAW if you or a loved one is facing a drunk driving or criminal case ANYWHERE in Macomb County. It is rarely as bad as you think and we can usually give you an accurate prediction of your case based upon our 40 years experience in every Macomb County Court.  We are one of the oldest and most respected law firms in Michigan and are fortunate to call Macomb County our home base. Your phone call or first consultation is free and may save your life. Phone: 586-412-5555, Toll Free: 844-Got-Abdo.