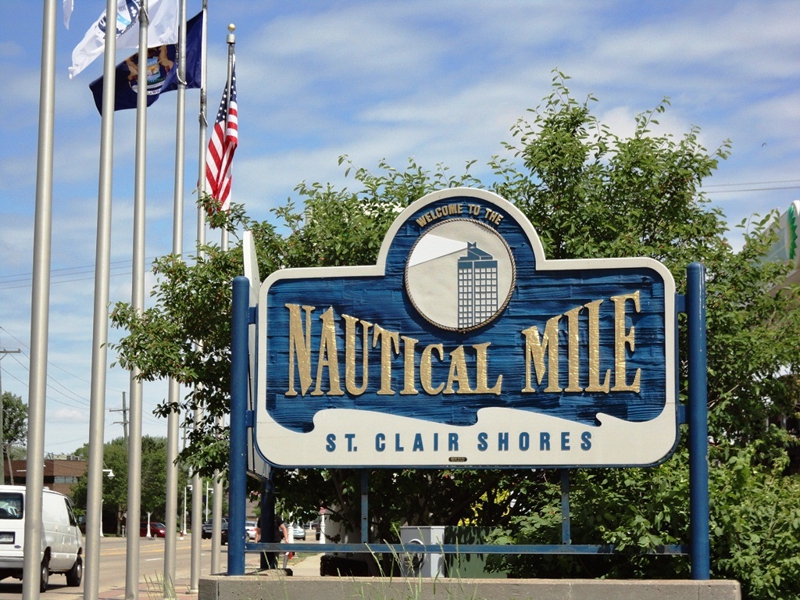 The city of St. Clair Shores, in Macomb County,  is nestled between Lake St. Clair along its entire easterly border and I-94 running alongside its western border.  The 40th District Court has jurisdiction over legal matters that arise in the City of St. Clair Shores that include the following:
The 40th District Court is located on the corner of 11 Mile Road and Jefferson: 27701 Jefferson, St. Clair Shores, Michigan 48081, Phone: 586-445-5280. Honorable Mark A. Fratarcangeli and Honorable Joseph Craigen Oster presiding.
St. Clair Shores: Nautical Mile, I-94, I-696
St. Clair Shores is best known for its several miles of coastline on Lake St. Clair. The lake is a big draw for recreation and for many that choose to live in St. Clair Shores. The area has a reputation for its charm and being a safe place to live. St. Clair Shores is the hometown of ABDO LAW partner, Cy M. Abdo.
Most of the recreational activity and action in St. Clair Shores takes place in a dedicated zone known as the Nautical Mile. The Nautical Mile in St. Clair Shores, located on Jefferson from 9 Mile Road to 10 Mile Road,  is a Michigan landmark which consists of numerous restaurants, bars, marinas and boat dealers along a one mile stretch of land on the shoreline of Lake St. Clair.
The City of St. Clair Shores has its own police department and the Michigan State Police patrol the I-94 and I-696 interstate expressways.
Criminal Cases in the 40th District Courts: Provisions of Law to Get Dismissals Available!
In 2019, 3116 crimes were reported in the entire city of St. Clair Shores. The following is a list of the most prevalent crimes reported in St. Clair Shores as well as most other Macomb County cities and townships:
 The 40th District Court keeps close tabs on the community to insure safe streets and recreational enjoyment. I would say that both judges take a 'hands on' approach to their cases. They use alcohol and drug testing extensively to monitor individuals that are on bond or convicted of an alcohol or drug related offense. Jail is rare for first time offenders. However, you will always want the benefit of an experienced 40th District Court criminal defense lawyer to get the best possible result .
Arraignment and Bond: If you are arrested or arraigned on a criminal matter in the 40th District Court, you will appear either before a magistrate or judge.  If you receive a misdemeanor ticket, your attorney may waive the arraignment and have the matter scheduled for a pretrial conference at a later date. If you have a warrant for your arrest or are otherwise required to personally appear for arraignment, the presence of an experienced St. Clair Shores criminal defense lawyer can a big difference at an arraignment to keep the bond low and keep the bond conditions at a minimum. I have found that Judge Oster, Judge Fratarcangeli and the magistrate will listen to an attorney's remarks regarding bond which can save potentially thousands of dollars that a bondsman would otherwise cost.  However, even though you are presumed innocent, the 40th District Court will require alcohol and/or drug testing as a condition of bond upon being arraigned and during the pendency of the case.
No-Contact Orders: The 40th District Court will also impose a no-contact order in every case involving domestic violence. When a no-contact order is imposed, it restricts an individual's right to contact or communicate with the alleged victim, even if they are married. If you find yourself in this position, a skilled domestic violence defense lawyer can file a motion to remove the no-contact order. Violating any bond condition is no joke and can result in jail time while the underlying case is pending.
Alcohol/Drug Testing: Those facing alcohol or drug charges in the 40th District Court will almost automatically be required to engage in testing for alcohol and/or drugs soon after a case enters the court system. Testing will also be imposed on those charged with offenses that involve alcohol or drugs such as disorderly conduct or domestic violence. Urine testing is the preferred means to test for drugs. For alcohol testing, the 40th District Court will consider one of the following:
Random breath tests
Ankle (SCRAM) continuous monitoring system
Soberlink (handheld device connected to cellular service or Wifi)
Once a person is required to be tested for alcohol and/or drugs, the 40th District Court Probation Department will be quick to set up a show cause or violation hearing if a person misses a prompt to provide a breath or urine sample or there are any positive results for any alcohol or drugs. We have represented clients that have faced show cause violations because of alcohol or drug use. A testing violation can also occur where the offender denies any alcohol or drug use and claims that the result was a "false positive". These situations can usually be resolved with the court when the offender has an action plan to avoid further violations or can show the court that there has not been any use of alcohol or drugs.
Misdemeanor or Felony Classification: In Michigan, the district courts have full jurisdiction to dispose of misdemeanors through sentencing. A misdemeanor is classified as an offense that carries up to 1 year in jail.  Felony cases are another matter. A felony is classified as a crime that can carry more than 1 year in jail. A felony case is initiated in the district court for the arraignment, probable cause conference and preliminary examination. A felony that is not resolved in the district court will be moved to the circuit court for further proceedings. In certain cases, a felony can be reduced to a misdemeanor and can remain in the district court. Accomplishing reduction of a felony to a misdemeanor, thus avoiding a felony conviction, is a huge legal victory.
The outcome of a criminal case in the 40th District Courts, as well as other Macomb County District Courts, is dependent upon many components.  The most significant factors that can have a bearing on the disposition of a case are:
Prior criminal history of the accused party.
Cooperation with the police.
Whether another party was injured, or property was damaged.
The ability of the accused party to provide restitution for damages to the injured party.
Whether the offense is a 'policy case' (crimes against senior citizens, children).
In our experience, criminal cases can be resolved favorably at the 40th District Court. All these special provisions of law are possible in the 40th District Court which can result in a dismissal of a criminal matter:
Drunk Driving Cases in the 40th District Court
In 2019, there were approximately 164 arrests for operating a motor vehicle under the influence of drugs or alcohol in St. Clair Shores.  Out of this number, 60 individuals registered a blood alcohol content (BAC) of .17 or greater and faced  "super drunk driving" or OWI with a High BAC. In 2016, there were about one-third fewer individuals facing "super drunk driving" in St. Clair Shores with only 42 offenders testing with a BAC of .17 or more.
1st offense drinking and driving:  A person without any prior DUI/OWI offenses can expect to get through the court process by getting a plea deal to a reduced charge, with no jail and no loss of license.  In practice, the majority of first time arrests for  OWI (.08 to .16) can be negotiated to a reduced to 'operating while impaired'. It is extremely difficult and rare, but not impossible, to get a drinking and driving offense reduced to a non-criminal offense. In addition to probation, a person convicted for a first drinking and driving offense (operating while impaired) is looking at:
Probation for 1 year or less
Fines and costs approximately $1,200.00
Restricted license for 90 days
Attend an alcohol or substance abuse program (discretionary)
Possible drug testing, alcohol testing, AA meetings (discretionary)
4 points on driving record
Super Drunk Driving: If a person is charged with Super DUI (BAC .17 or greater) a deviation may need to be filed to get a plea bargain for a lower offense. Super DUI convictions will result in mandatory license suspension for 45 days followed by a restricted license for a period of 320 days with the requirement of a vehicle breathalyzer ignition interlock device (BAIID). The Court can also order installation of an ignition interlock system on any vehicle driven by a person convicted of any drinking and driving offense, not just a Super DUI.
Repeat DUI Offender: A repeat drinking and driving offender may be looking at a longer period of probation, up to 2 years, with the possibility of some jail time.  There are many steps that we can recommend to those charged with a repeat offense to reduce the likelihood of incarceration in almost every court.
Third Lifetime DUI = Felony: DUI 3rd is a felony/with a maximum penalty of 1-5 years in prison.  Felony matters begin in the district court and can remain in the district court for purpose of sentencing and probation ONLY if reduced to a misdemeanor. Felonies that are not resolved in the district court are handled in the Circuit Court after the probable cause conference or preliminary examination. Click here for more information on felony procedure.
The 40th District Court Probation Department: 27701 Jefferson, St. Clair Shores, Michigan 48081
The 40th District Court has its own probation department located inside of the courthouse.
It is within the judge's discretion whether to place an individual on probation after being convicted of a criminal or drunk driving offense. When probation is imposed, the judge may require reporting or non-reporting probation.  The maximum period of probation that can be imposed in the district courts is 2 years.
Traffic Violations in the 40th District Court: Reduced to Avoid Points and Record of any Conviction!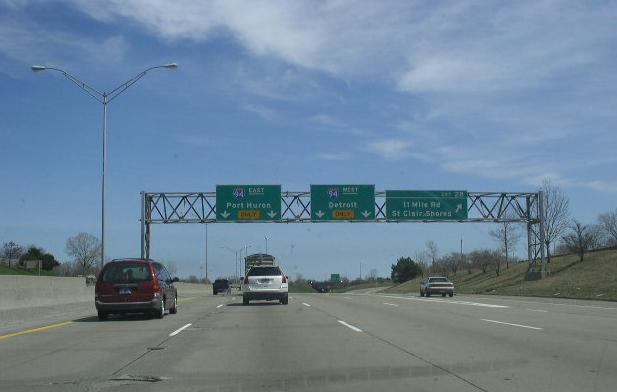 Like other district courts in Macomb County, I would say that traffic tickets are on the top of the list of types of cases that are litigated at the 40th District Court. The presence of I-94 and I-696 contribute to the traffic volume in St. Clair Shores.  When resolving a traffic matter in the 40th District Court, we are often able to negotiate a reduction or avoid points. A substantial reduction in a traffic ticket occurs when it is reduced to an offense such as impeding traffic or double parking. A traffic ticket that is reduced to impeding traffic or double parking does not carry any points and will never appear on a person's driving record! We are also able to get favorable results for individuals charged with misdemeanor traffic offenses such as driving while suspended, reckless driving and leaving the scene of an accident. 
Courts are making it easier than ever to just pay your traffic ticket by visiting the court's website and conveniently providing an option to pay by credit card.  Unfortunately, most individuals that receive a traffic ticket do not hire a lawyer and wind up with a record and points that will have an impact on insurance premiums for several years. The path of least resistance, paying the ticket, can be much costlier in the long run.