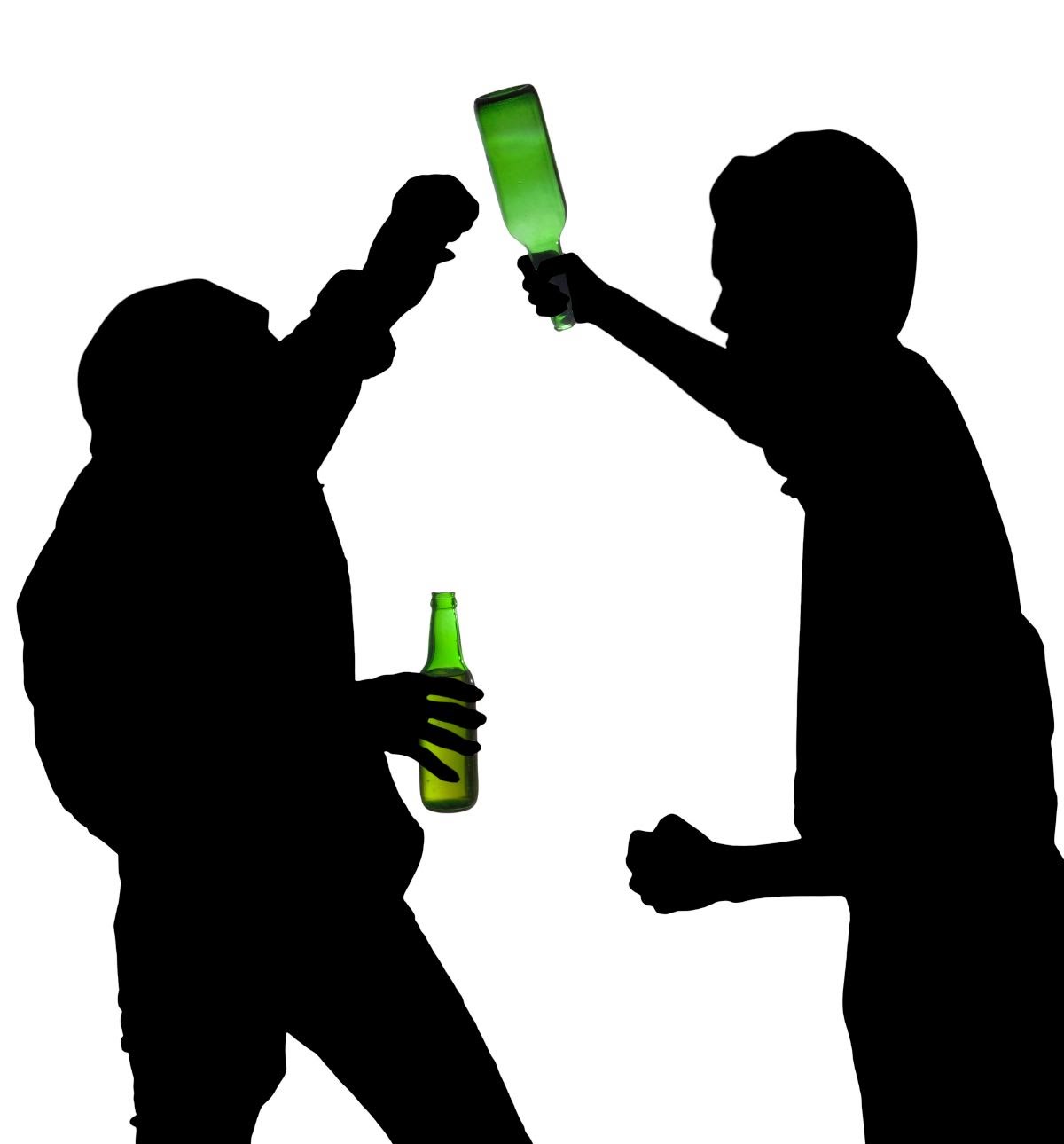 Image depicting felony "Assault with a Deadly Weapon"
List of Michigan Assault/Domestic Violence Crimes and Maximum Penalty
According to Michigan Crime Statistics, 117,430 assault crimes were reported in 2016. This includes assaults classified as misdemeanors, felonies and domestic violence cases. The following is a list of both misdemeanor and felony assault crimes as contained in the Michigan Penal Code:
Misdemeanor Assault Crimes                                      Maximum Punishment
Assault and battery                                                      93 days jail
Aggravated assault                                                       1 year jail
Domestic violence                                                         93 days in jail
Aggravated domestic violence                                    1 year jail
Felony Assault Crimes                                                    Maximum Punishment
Assault with a deadly weapon (ADW)                       4 years prison
Felony domestic violence (3rd Offense)                    5 years prison
Assault with intent to do great bodily harm            10 years prison
Assault by strangulation                                             10 years prison
Assault with intent to murder                                    Up to life in prison
Threatening another person with an object during an altercation (assault with a deadly weapon) or placing someone in a choke-hold which impedes breathing (assault by strangulation) can result in serious felony charges. Once an assault crime is on your record, it can lead to devastating consequences that will last a lifetime. In this publication, we will discuss ways that we have successfully defended assault crimes against all odds and have dodged felony convictions. We will also discuss situations whereby an alleged victim or injured party wants the case dismissed or fails to appear for a trial.
 Assault with a Deadly Weapon Includes Objects Other than a Gun or Knife:  The criminal offense of felony assault is formally called "Assault with a Deadly Weapon" (ADW) in the Michigan Penal Code (MCL 750.82). It is consistently one of the most prevalent felony crimes in Macomb County Courts.   It is a serious felony which is punishable by up to 4 years in prison. Felony assault (ADW) is a crime which involves an assault with the use of a deadly weapon (such as a gun or knife) or any other instrumentality which is fashioned or used as a weapon (car, golf club, bottle, pool stick) and is capable of inflicting serious bodily injury or death. Actual physical contact or an injury is not required.
Assault by Strangulation or Suffocation:  Assault by strangulation or suffocation (MCL 750.84) is a felony which carries up to 10 years in prison. This offense is seen most often in domestic altercations. The statute describes "strangulation or suffocation" as intentionally impeding normal breathing or circulation of the blood by applying pressure on the throat or neck or by blocking the nose or mouth of another person.
The initial arrest, bond conditions and the next step in a domestic violence case
We know that you can never plan ahead for matters such as this, but if you are arrested for an assault or domestic violence crime, do not resist or say anything to the police except: "I'm exercising my right constitutional right to remain silent." Asking the police officer if you can contact a lawyer (from your home or cell phone) is not an unreasonable request. The arresting officer may or may not allow for you to make a phone call. At your earliest opportunity, you or a family member should contact a lawyer for guidance. Being detained will seem like a lifetime but be assured that at some point a bond will be set and bond conditions imposed. The bond will usually require that money be posted with the court or with a bondsman. Typical bond conditions include:
No contact, direct or indirect, with the alleged victim.
Random testing for drugs and/or alcohol.
No travel outside of Michigan without court approval.
You have a better chance to get a low cash bond or a personal bond with an attorney present at your arraignment/bond hearing. However, it is not always possible to get a lawyer on such short notice. Should the court set an unreasonably high bond, a bond motion can be filed requesting a reduction in the bond or modification of the bond conditions.
You may not be able to return to your own house! If you have been living with the alleged victim and the alleged victim remains in the home, you may not be allowed to return to the home if a no-contact order is in place. Of course, this scenario has ridiculous implications for someone that has nowhere else to live, does not have access to clothes or other necessities. A police escort may be requested to gain access to the home for personal belongings. If the other person is not on the title and refuses to vacate the home, an eviction may need to be filed to regain possession. The eviction process can take several days or months, depending upon the circumstances.
Parenting time with minors:  Parenting time will be difficult and sometimes impossible while a no-contact order is place. If the domestic violence case is viewed as extreme in the eyes of the court, parenting time may be halted until the accused party is cleared for visitation by professionals and the court. The court handling the domestic violence case may allow limited contact with the alleged victim for purpose of transacting parenting time. Many times, parenting time must be re-visited at the court with underlying jurisdiction over child custody.
Getting a lawyer: Hiring a lawyer is a daunting experience but can be made less painful by getting a local criminal defense lawyer that can clearly explain your options and give you straight forward information about legal fees.
What happens if the alleged victim wants to dismiss the charges or fails to appear at preliminary examination or trial?
There are policy reasons that make it difficult to get an assault or domestic violence case dropped as we explain in another publication. Any desire by the alleged victim to drop the charge will be met with resistance by the prosecutor. The prosecutor will remind the alleged victim that criminal charges for filing a false police report will be pursued should the alleged victim's story change from the initial police report. The alleged victim will also be warned of "being held in contempt" for failure to appear in court after being served with a subpoena. In addition, any person that attempts to intimidate or influence a witness can charged with witness tampering pursuant to MCL 750.122.   It takes the skills of an experienced criminal defense lawyer to navigate all of the legal issues that can arise in situations such as this.  
Under certain circumstances, the prosecutor may attempt to proceed without the alleged victim by introducing the statements of the alleged victim which were made at the time of the offense. The prosecutor should expect strong objections from defense counsel in this scenario based upon the hearsay evidence rules and the Confrontation Clause of the Constitution.
There are serious legal complexities involved in cases where the alleged victim wants to dismiss an assault charge or does not want to testify at trial. The alleged victim may consider hiring independent counsel for representation to avoid any communications with the prosecution and determine if taking the Fifth Amendment (right to remain silent) is a viable way to proceed and for answers to these questions:
Will the alleged victim be held in contempt of court and face jail upon failure to appear at trial or a hearing to testify?
Can the alleged victim be charged with a crime for changing the story about what happened?
Can charges be filed against a person that tells the alleged victim not to appear at court (witness tampering or intimidation)?
Assault and Domestic Violence Strategies: Avoiding Conviction, Jail, Record
The chief concerns for those facing criminal charges are: Avoiding a conviction, Avoiding a criminal record and Avoiding any jail time. We share in these concerns and look for ways to get our clients out of the system with the least possible ramifications.
There are several factors that can influence the outcome of an assault charge:
Prior criminal record of the accused.
Injuries to the alleged victim.
Prior assaultive history of the alleged victim.
Whether the accused acted in honest self-defense.
Whether any drugs or alcohol are involved.
Whether the alleged victim will agree to a plea bargain.
Whether the alleged victim will cooperate at preliminary examination and trial.
Whether the alleged victim claims any losses (restitution).
Whether the prosecutor has a 'no plea bargain' policy.
Whether the accused is a youthful offender entitled to HYTA.
In defending clients charged with an assault crime, there are various outcomes that we have obtained to avert a conviction or felony record including: dismissal prior to trial, not guilty verdict following a trial, reduction of a felony to a misdemeanor and getting a disposition for a dismissal pursuant to HYTA (youthful offender), MCL 769.4a (domestic violence act) and delayed sentencing (MCL 771.1). We have also provided effective assistance in cases where the alleged victim does not want to testify or prosecute our client.
Please browse our webpages and blogs that are dedicated to the topics of: assault, domestic violence, self-defense, misdemeanor representation and felony representation.
Public Policy Reasons Make it Difficult to Get Domestic Violence Cases Dismissed
How Am I Being Charged With Domestic Violence / Assault When I Acted In Self-Defense?
Can I be charged with a crime if only one person says I did it and there are no other witnesses or evidence (commonly called "he said/she said" cases)?
Imposition of No Contact Orders for Persons Charged with Michigan Criminal Offenses; Assault, Stalking, Domestic Violence
When a Misdemeanor Assault or Domestic Violence Case Escalates to a Felony
Part 1: Domestic Violence Cases in Macomb and Oakland County, Michigan, Investigation, Arrest and Statements by the Accused
Part 2: Domestic Violence Cases in Macomb and Oakland County, No-Contact Orders, Dismissals for First Offenders
Part 3: Domestic Violence Cases in Macomb and Oakland County; Court Process, Victim Failing to Appear in Court, Victim Providing a Contrary Statement