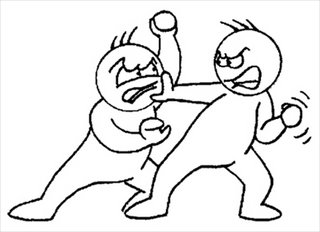 Oftentimes clients call confused as to why they are being charged with an assaultive crime (assault and battery, domestic violence, etc.) when they believed that they were acting in self-defense. The police have to respond to allegations of violence, and where somebody alleges that they were attacked that will generally be sufficient to get a case brought into court. Sometimes one party will be charged (often the case) and other times both will.
Self-defense is one of the most common defenses in criminal law, and where the defense is successfully put forth it negates a crime of violence. Where we can show that our client acted in self-defense, the prosecution then faces a greater burden at trial. The prosecution must then show beyond a reasonable doubt that the assaultive crime occurred and moreover show beyond a reasonable doubt that the defendant didn't act in self-defense. The following elements must be shown in order to establish a valid self-defense claim.
1) The defendant must have truthfully believed that the aggressor was going to use physical force against him, her, or a third person. So long as non-lethal force was applied the defendant need not have believed the aggressor was using deadly force.