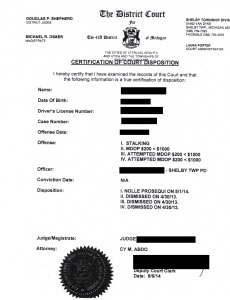 Above image is an actual court disposition resulting in dismissal of multiple offenses.
This blog is based upon our experience representing clients that are charged with multiple criminal offenses. Multiple criminal offenses may be brought even when there is a single intent involved. When confronted with multiple criminal charges, our objective becomes one of untangling the mess, isolating what really occurred and attempting to get charges reduced or dropped.
In certain situations, a person may obtain multiple criminal charges arising out a single incident, single intent or criminal episode. An evening of alcohol consumption with friends, or the escalation of a domestic altercation, sometimes ends poorly. In other cases, multiple criminal charges may be the result of an over-zealous prosecutor or police agency seeking to hit an offender with every offense in the Michigan Penal Code. In our experience, multiple criminal charges arising out of a single incident is usually "over-kill" on the part of the prosecutor or cops and seldom results in multiple convictions when approached with a sound legal strategy.