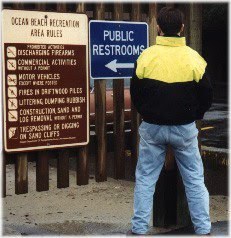 In Michigan, the crime of public urination is not included in the Michigan Compiled Laws. However, many towns, villages and cities have ordinances against such behavior and offenders may be arrested for violating the ordinances. For example, Delta Township (west of the City of Lansing) has such an ordinance, which makes urinating in public illegal. The maximum penalty for this misdemeanor is up to 90 days in jail.
Because Michigan doesn't have a specific crime related to urinating in public, an individual may be charged pursuant to  MCL 750.335a, Michigan's  Indecent Exposure statute,  or under the Disorderly Conduct statute. This crime has negative connotations which are associated with deviancy or sexual misconduct. A conviction on a person's record leads to undeserved misunderstandings and possibly labels the person as a weirdo or trouble maker.
Detroit, Royal Oak, St. Clair Shores, Utica: Areas with active night-life get most disorderly conduct cases.