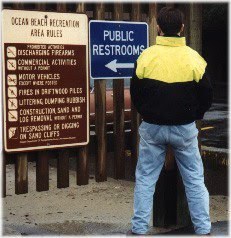 Urinating in a public place can be charged as a misdemeanor under local city or township ordinances, pursuant to Michigan's Indecent Exposure Statute (MCL 750.335a), or under the general Disorderly Conduct Statute  (MCL 750.167). The crime "urinating in a public place" can be misused by the police and lead to negative connotations associated with deviancy or sexual misconduct. A conviction on a person's record leads to undeserved misunderstandings and possibly labels the person as a weirdo or trouble maker. Let us explain how we fight and win to avoid the stigma associated with this crime when it is a case involving medical emergency or a client is eligible for substantial break under the law.
Detroit, Royal Oak, St. Clair Shores, Utica: Areas with active night-life get most disorderly conduct cases.
The police tend to be on the lookout for misconduct such as urinating in public, disorderly conduct and public intoxication in areas where bars are in close proximity to residential areas. Therefore, we see a greater number of persons charged with this crime in places like Detroit, Royal Oak, St. Clair Shores or downtown Utica where many bars are located within a confined geographical area.  By far,  Royal Oak and Detroit top the list of places where our clients face charges for public intoxication and urinating in public.