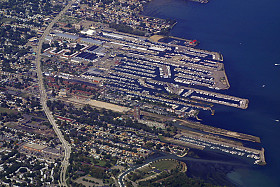 The Nautical Mile is located on Jefferson between 9 Mile Road and 10 Mile Road in the City of St. Clair Shores. The Nautical Mile is a Michigan landmark which consists of numerous restaurants, marinas and boat dealers along a one mile stretch of land along the Lake St. Clair shoreline. It is a major Metro Detroit area attraction and is well known for nightlife, dining, water sports, boating or just cruising on Jefferson Avenue.
In 2010, Michigan claimed third place among the 50 states with total boat registrations boasting 812,066 boats and watercraft. Florida and Minnesota rank above Michigan while California trails Michigan in the total number of registrations. The marinas located in St. Clair Shores, along with other Macomb County Marinas located in Mt. Clemens, Harrison Township and New Baltimore, claim a major share of these registrations. The major marinas consist of Miller Marina, Jefferson Beach Marina and Emerald City Harbor.
The locally popular restaurants along the Nautical Mile (Brownies, Pat O'Brien's, The Beach Grill, Waves) offer excellent culinary options and popular night spots. This combined with the marina and boating activity are a recipe for a summer long party atmosphere.
Alcohol is a close cousin of the boating scene which can lead to numerous criminal offenses. Our firm has represented individuals charged with drunk driving (OWI), boating under the influence (BUI), assault crimes, disorderly conduct, resisting arrest, public intoxication, MIP and domestic violence for various behavior on the waterfront. Whether on sea or shore, many of the confrontations with the police on the Nautical Mile are associated with alcohol consumption and/or drug use which can lead to misdemeanor or felony criminal violations.
The 40th District Court, located in St. Clair Shores, sees a fair share of cases associated with criminal activity along the Nautical Mile. I can say that the Judges of the 40th District Court are knowledgeable, proactive and reasonable when it comes to alcohol related crimes in their jurisdiction. Like other Judges in Macomb and Oakland County, the 40th District Court bench will give most first offenders a chance to dig out. The Judges in this Court are receptive to statutes which allow for deferrals and dismissals upon compliance. In this regard, our firm has negotiated and achieved special sentencing dispositions resulting in dismissals of drug crimes, domestic violence, disorderly conduct, MIP and other criminal offenses involving adults or youthful offenders pursuant to the Youthful Trainee Act (HYTA). Drunk driving cases are not so easily resolved but are often reduced to a lower offense which does not result in loss of license or jail time if handled properly. Clients facing a repeat criminal offense, violent crime, narcotic crime or property destruction will need a serious defense strategy.
A person who commits an alcohol related crime can expect probation along with random alcohol testing to insure compliance. The 40th District Court has its own probation department and I can say that they will set up a probation violation hearing upon notice of non-compliance or an alcohol/drug test failure. The 40th District Court is located on the corner of 11 Mile Road and Jefferson: 27701 Jefferson, St. Clair Shores, Michigan 48081; Honorable Mark A. Fratarcangeli and Honorable Joseph Craigen Oster presiding, Phone: 586-445-5280, criminal extension #3.
Continue Reading