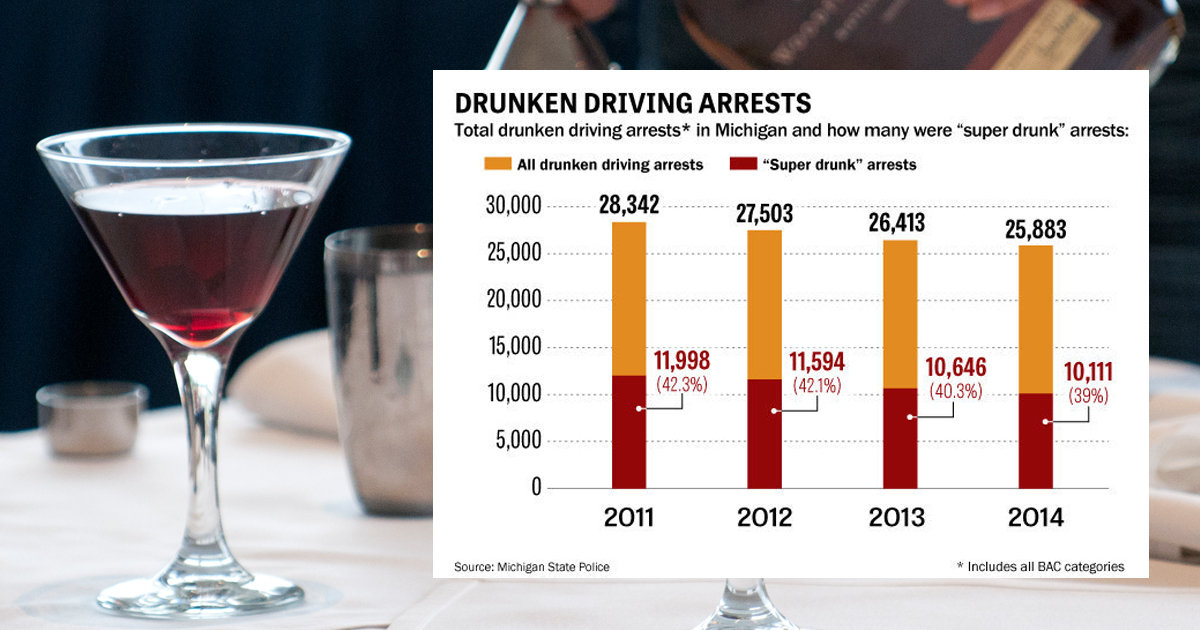 Super Drunk Driving = Operating with a High BAC .17 or Greater 
Effective October, 31, 2010, Michigan's "SUPER DRUNK" law went into effect.  The Super Drunk Law, now on the books for several years, is commonly referred to as 'operating with a high BAC' on police and court documents.  This law adds harsher penalties to drunk drivers with high blood alcohol levels of .17% or greater as follows:
Up to 180 days in jail.
A fine of at least $200 but not more than $700.
Court costs. In addition to court costs, offender may be charged for police response expenses.
Up to 360 hours of community service.
Up to 2 years probation.
Substance abuse counseling, alcohol and drug testing.
License Sanctions: No driving for the initial 45 days followed by a restricted license for the remaining 320 days with installation of a breathalyzer ignition interlock device (BAIID) on the vehicle. Proof of installation of an ignition interlock device is required before a restricted license will be issued.
6 points (imposed by Secretary of State)
A restricted license will permit the individual to operate a vehicle equipped with an ignition interlock device under the following circumstances:

To and from residence and employment, and during employment;
To and from alcohol or drug education or treatment program;
To and from regularly scheduled treatment for serious medical condition;
To and from probation, community service and school.
Get a Qualified DUI Lawyer that Knows the Law, the Science and Policy of the Prosecutor
Super DUI (.17% or more) or OWI (.08% or more) are presumptive offenses and guilt is based upon the testing results at or above the legal limits. Actual intoxication or impairment does not have to be proven. Getting a qualified DUI attorney the best course of action if you are facing a SUPER DUI. There is more than just the law involved in the handling of these cases. Our Macomb County Lawyers know the law, the science of blood alcohol levels and the policy of the local prosecutors. When the law and science are not in your favor, knowing how to manage a SUPER DUI and obtain plea bargain to a lower charge is our job.
According to the above chart, Super DUI cases account for just less than half of all drinking and driving arrests in Michigan
. Here are some key statistics for Macomb County regarding all reported drunk driving cases according to the
2016 Michigan State Police Drunk Driving Audit
:
For 2016, 2,182 breath or blood tests were given in Macomb County; breath testing accounted for 64.34% of all tests
631 breath and blood tests in Macomb County were .17 or higher (Super DUI)
Shelby Township Police administered 193 combined breath and blood tests; 67 were .17 or higher
Utica Police administered 60 breath and blood tests; 27 were .17 or higher
Sterling Heights Police administered 165 breath and blood tests; 58 were .17 or higher
Clinton Township Police administered 150 breath and blood tests; 70 were .17 or higher
Chesterfield Township Police administered  166 breath and blood tests; 46 were .17 or higher
Macomb Sheriff Department (for MacombTwp, Washington Twp & other areas) administered 315 breath and blood test results; 105 were .17 or higher
For 2016, 5,409 total injury accidents were reported in Macomb County and 374 involved alcohol, drugs or a combination of drugs or alcohol
 Super DUI Conviction Requires Costly and Embarrassing Breathalyzer Ignition Interlock Device (BAIID) for 320 Days!
The mandatory requirement of a breathalyzer ignition interlock device (BAIID) device is biggest game changer for drivers charged with a Super DUI.  If convicted of a Super DUI, the BAIID is required for a long period of time (320 days), is expensive and embarrassing to say the very least. The BAIID, similar to a portable breathalyzer, is connected to the ignition system and requires the user to blow a breath sample into a mouthpiece before . This will determine the alcohol concentration level within the body.  If the user's BAC is .025 or higher, the BAIID equipped vehicle will not start.
An ignition interlock device costs approximately $65.00 to $90.00 per month. Other costs associated with BAIID devices include the installation and removal fees. The Secretary of State has a list of approved BAIID installers.
BAIID problems are quite common which can result in violations that are reported to the Secretary of State. A number of these problems are not the fault of the user but occur because of vehicle electrical/battery glitches and conditions caused by the weather, freezing and condensation.  If you suspect that your BAIID has reported a violation in error, you should obtain a private independent alcohol test to verify that you have not consumed any alcohol. Pursuant to Michigan law, violations are classified as either minor or major violations. Major violations will result in the immediate reinstatement of driver license revocation/denial. You may appeal that action to the Administrative Hearings Section in a timely manner. The following is a list of major violations:
Rolling retest violation:

Failing to take the rolling retest when prompted by the BAIID; or
The random retest detects a BAC of .025 or higher, and there is no subsequent sample with a BAC of less than .025 within 5 minutes.

An arrest or conviction for drunk and/or drugged driving.
Tampering or circumventing the BAIID.
Three minor violations within a monitoring period.
Removing the BAIID without having another device installed within 7 days, unless the Secretary of State has authorized the removal.
Operating a vehicle without a properly installed BAIID.
Getting an attorney is your best bet if you have been charged with a Super DUI/Operating with a High BAC of .17 or More!
Our criminal defense attorneys have a winning track record in defending against Super DUI cases.  Initially, we will closely examine the evidence, the validity of the traffic stop and underlying test results to determine if there are any solid legal grounds for dismissal or trial. When a dismissal or trial is not plausible, we have succeeded to get the charge reduced to a lower offense which does not mandate the BAIID device and is much less burdensome in every other respect than a Super DUI conviction. Since Super DUI cases are considered 'Policy Cases' in every Metro-Detroit court, a deviation request may be required to obtain approval for a plea bargain to a lower offense. Our firm has been successful in getting the majority of our Macomb County Super DUI cases reduced to a lower offense. *Getting a Super DUI reduced to 'impaired driving' is considered a huge victory. We have been able to do this by attacking the police report, attacking the test results, filing a deviation request or by aggressive negotiations with the prosecuting attorney assigned to the case. The following is a list of the district courts located in Macomb County where a positive resolution to a Super DUI charge is feasible:
37th District: (Warren, Centerline) 8300 Common Rd, Warren, MI 48093
38th District: (Eastpointe) 16101 E 9 Mile Rd, Eastpointe, MI 48021
39th District: (Roseville, Fraser) 29733 Gratiot Ave, Roseville, MI 48066
40th District: (St. Clair Shores) 27701 Jefferson Ave, St Clair Shores, MI 48081
41-A District: (Sterling Heights) 40111 Dodge Park Road, Sterling Heights, MI 48313
41-A District: (Shelby Township, Macomb Township, Utica) 51660 Van Dyke, Shelby Charter Township, MI 48316
42-1 District: (Romeo, Washington Township, Richmond, Ray, Bruce, Armada)  14713 33 Mile, Romeo, MI 48065
42-2 District: (New Baltimore, Chesterfield Township, Lenox, New Haven) 35071 23 Mile Rd, New Baltimore, MI 48047
Getting charged with a Super DUI does not mean that you will get jail or get jammed up with a Super DUI conviction.  ABDO LAW has adopted an aggressive approach in the defense of all drinking-drugged driving cases.   We may require our clients obtain a substance abuse evaluation, begin a substance abuse or alcohol counseling program and obtain character letters as part of our format to get a Super DUI under control.
*There are several benefits when a Super DUI is reduced to impaired driving: driver's license sanctions are substantially lessened (90 days restricted for impaired instead of 365 days of license sanctions associated with a Super DUI with the BAIID requirement for 320 days), lesser fines, less points and a reduced charge reported to insurance companies and placed on your criminal record. 
Links to our other publications on this topic:
Frequent Drunk and Drugged Driving Consultation Topics
Michigan's Implied Consent Law
The Science of DUI Blood Alcohol Levels
Macomb County Felony Drunk Driving