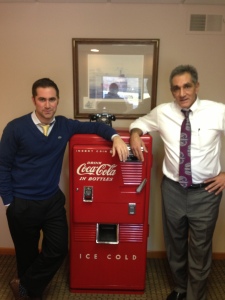 The 41-B District Court is located at 22380 Starks Drive, Clinton Township, Michigan 48038, phone: 586-469-9300. It has jurisdiction to handle civil, traffic and criminal cases arising in Clinton Township, Harrison Township and Mount Clemens. Clinton Township has its own police department while Harrison Township and Mount Clemens are policed by the Macomb County Sheriff's Department. This Court gets a fair share of traffic with M-59 bordering the north end and Gratiot Avenue bordering the east end of its territory. The Court is served by Judge Sebastian Lucido, Judge Linda Davis and Judge Carrie Lynn Fuca.
As a Macomb County law firm, we have practiced extensively in the 41-B District Court and can say that all of the Judges have their own policies and practices. As far as fines and costs for traffic and criminal cases are concerned, the 41-B District Court has a website link which contains a listing of traffic/criminal violations, points associated with traffic/criminal convictions and a partial list of fines and costs. The website does not list fines and costs for many misdemeanors or drunk driving. However, my experience is that the fines and costs for a first offense drunk driving (OWI or DUI) or impaired (OWVI) will be approximately $1,400.00. This is not the total cost for a drunk driving offense in the 41-B District Court. Other approximate costs will include probation oversight expenses of $20.00 per month for 1 to 2 years, substance abuse counseling, driver responsibility fees ($2,00.00 for operating while intoxicated and $1,000 for operating while impaired), driver license reinstatement fee, random alcohol testing fees and sobriety monitoring fees. Under certain circumstances, the Court may consider non-reporting probation for a first offender that does not have a substance abuse disorder and is not likely to commit a crime in the future. An attorney can argue to lessen some of the programs and costs which I have mentioned.
Criminal matters handled in the 41-B District Court, Misdemeanors, OWI, Expungements

The 41-B District Court has jurisdiction (authority) to handle a criminal misdemeanor cases from the beginning to the end.  In the State of Michigan, a misdemeanor is an offense that can carry up to 1 year in jail. The 41-B District Court also handles the early stages of a felony case.  For felony cases, the Court handles the arraignment and preliminary examination. After the preliminary examination, felony cases which arise in Clinton Township, Harrison Township or Mt. Clemens are resolved in the Macomb County Circuit Court for all further proceedings including trial.
The most common misdemeanor cases on the 41-B District Court's daily docket are:
All of the Judges in the 41-B District Court will consider accepting eligible offenders charged with retail fraud, domestic violence, possession of marijuana for alternative dispositions pursuant to first offender programs.  An offender that obtains a first offender program disposition can earn a dismissal without entry of a guilt. Delayed sentencing and HYTA (youthful offenders) are other excellent criminal defense resources which are utilized in the 41-B District Court to get cases dismissed as well.
In addition to the above criminal matters, the Judges of the 41-B District Court are all willing to grant expungements of criminal convictions to eligible parties.  An expungement is a process which involves setting aside a prior conviction (offense more than 5 years old). Certain offenses, such as drunk driving, are not eligible for expungement. An attorney can evaluate whether someone is eligible for a Michigan expungement.
When it comes to operating while intoxicated (OWI) or drunk driving cases, the 41-B District Court utilizes its own probation department for services that include probation interviews, substance abuse evaluations and monitoring individuals placed on probation.  A first time drunk driving offender can expect a fine and court costs in the $1,400.00 range and may be required to attend a substance abuse program that is recommended by the Court's probation department. A second time drunk driving case will result in fines and costs closer to $2,000.00 and a substance abuse program is almost certain. The State of Michigan will also impose an indefinite driver's license revocation to a person convicted of a second  drunk driving conviction within a 7 year period.  However, the 41-B District Court has  a special program known as Sobriety Court. It should be noted that the Sobriety Court program is not available in every jurisdiction and is only available on a limited basis. A person who would otherwise face license revocation, can get back on the road by being accepted into the Sobriety Court program.
Traffic Tickets
Traffic tickets which occur in Clinton Township, Mt. Clemens and Harrison Township are also handled in the 41-District Court. Traffic tickets can be charged as criminal matters (reckless driving, leaving the scene of an accident) or civil infractions (speeding, careless driving, fail to yield). The points associated with traffic tickets go on a person's driving record which results in increased insurance premiums for several years. For this reason, it usually pays to get a lawyer to fight a traffic ticket. Did you know that an attorney can negotiate to get a traffic ticket lowered to avoid points?  One of the best deals that is available for traffic offenders is to get a reduction to a lower offense such as "impeding traffic" or "double parking" which does not go on a person's record and does not carry any points!
There is always a lot more at stake when someone is charged with a criminal traffic ticket. Criminal traffic tickets can carry greater points, possible jail and go on one's criminal record. The following is a partial list of criminal traffic tickets:
Driving while license suspended revoked
Reckless driving
Leaving the scene of an accident
Failing to merge for an emergency vehicle
Again, getting a lawyer for a criminal traffic matter can mean avoiding a criminal conviction, saving Michigan driver responsibility fees and avoiding points. The prosecutors that operate at the 41-B District Court are usually willing to negotiate with defense attorneys to resolve criminal traffic matters.  A good outcome for a criminal traffic ticket may consist of negotiating a reduction to a non-criminal offense or civil infraction.
Click here for 41-B District Court Home Page
Click here for map to 41-B District Court
Click here for 41-B District Court list of fines, costs at points
Click here for list of all links to all Macomb County District Courts
Click here for map of Macomb County Michigan

Our firm has represented clients charged with just about every imaginable misdemeanor or felony crime in the 41-B District Court including drunk driving (OWI), drug crimes, disorderly conduct, prostitution, offer to engage or solicit sex from another, domestic assault, retail fraud, assault, retail fraud, larceny, fraud, breaking and entering, child abuse, criminal sexual conduct, indecent exposure, malicious destruction of property, traffic violations, DWLS and probation violations.
As experienced criminal defense attorneys in Macomb County, I can say that the 41-B District Court is a just and fair place to practice law. What I mean is that the Judges are willing to listen to arguments and fairly dispose of criminal, drunk driving and traffic cases. I have found that the Judges are willing to give a criminal defense attorney some leeway when a case goes to trial or preliminary examination. In addition, most criminal cases handled by our firm are resolved without trial (90% or more are resolved by aggressive plea negotiations).
Call the ABDO LAW FIRM for a Free Consultation!
Phone: 586-412-5555 www.cyabdolaw.com