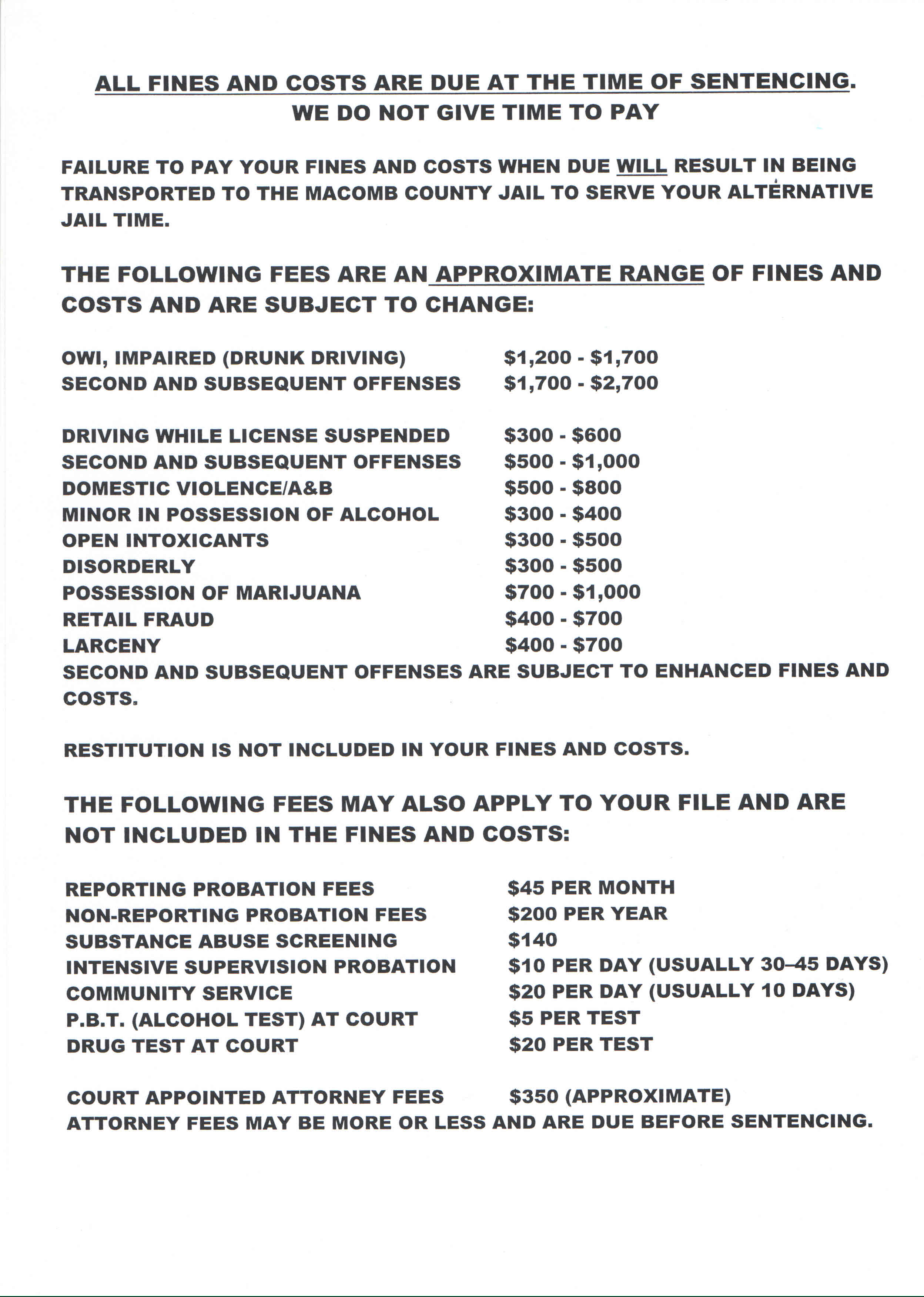 The 42-1 District Court in Romeo has jurisdiction over criminal misdemeanors which occur in Romeo, Washington Township, Armada, Bruce Township and Ray Township. Recently, the 42-1 District Court updated its range of possible fines and costs for the most common misdemeanor cases. This is very timely since our law firm recently posted a blog on the Most Prevalent Misdemeanor Crimes in Macomb County District Courts.
The 42-1 District Court approximate range of fines and costs:
OWI, Impaired Driving First Offense $1,200.00 to $1,700.00 OWI, Impaired Second Offense $1,700.00 to $2,500.00 Possession of Marijuana $700.00 to $1,000.00 Retail Fraud $400.00 to $700.00 Larceny $400.00 to $700.00 Driving While License Suspended $300.00 to $600.00 Domestic Violence, Assault & Battery $500.00 to $800.00 Minor In Possession of Alcohol $300.00 to $500.00 Open Intoxicants $300.00 to $500.00
In addition to fines and costs, the court charges up to $45.00 per month for reporting probation oversight expenses and $200.00 per year for non-reporting probation. The court invariably will require random alcohol testing for any drunk driving or alcohol crime at a cost to the offender as well.
The 42-1 District Court is not giving offenders any payment plan and has posted the following: "ALL FINES AND COSTS ARE DUE AT THE TIME OF SENTENCING. WE DO NOT GIVE TIME TO PAY".
Higher fines and costs are becoming a trend in every court that we attend in Macomb County. Similarly, most courts are not giving offenders any payment plan. Unfortunately, this imposes a huge economic hardship on our clients who are faced with varying economic situations.
In addition to fines and costs, all of the above offenses can carry possible jail time. For a first offense, the maximum sentence is up to 93 days in jail. Second offenses can carry up to 1 year in jail. The offenses of domestic violence, retail fraud, minor in possession of alcohol and possession of marijuana can be dismissed pursuant to first offender programs or HYTA for offenders age 17 but under 21.
We have links to our website (www.cyabdolaw.com) for the offenses mentioned in this article for your convenience.