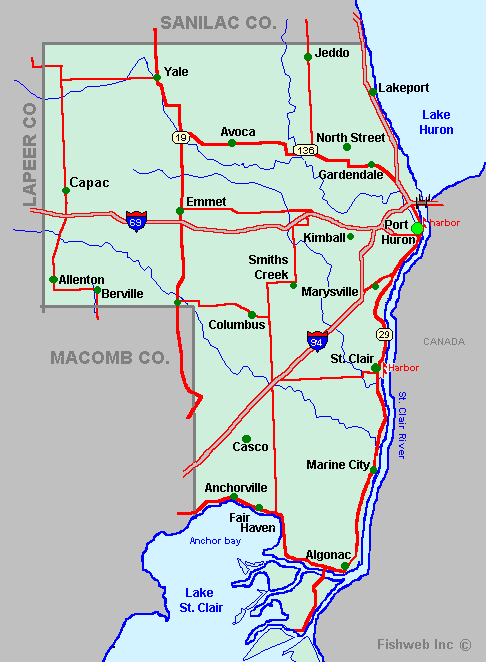 St. Clair County borders Macomb, Lapeer and Sanilac Counties and is just a short distance (via the Blue Water Bridge) to Sarnia, Ontario, Canada. There are several recreational attractions in this area, major events (Port Huron to Mackinac Race, Port Huron Float Down, Jobbie Nooner) and many that choose to live in St. Clair County because of its charm and proximity to the St. Clair River and Lake Huron. If you are charged with a crime, get in trouble at the border (Blue Water Bridge or ferry crossing) or are caught driving under the influence (DUI, OWI)  in St. Clair County, your case will be heard at 72nd District Court with locations in Port Huron and Marine City.  The 72nd District Court bench are protective of their communities.
Google Maps Link for Directions to 72nd District Courts
The 72nd District Court has 2 locations in St. Clair County with jurisdiction to handle criminal and drunk driving matters which occur in this region.
72nd District Court (Port Huron)
201 McMorran Blvd.
Room 2900
Port Huron MI 48060
72nd District Court (Marine City)
2088 South Parker (M-29)
Marine City, MI 48039
St. Clair County Serviced by State, Local and Federal Law Enforcement Agencies
There are several active law enforcement agencies in St. Clair County (St. Clair County Sheriff's Department, Michigan State Police, Department of Natural Resources, Homeland Security, US Coastguard, US Customs) which have the responsibility of keeping order in an area with an international border with Canada, miles of waterfront property and that hosts recreational activities which often involve boating, crowds and alcohol.
72nd District Courts: Resolution of Criminal & Drunk Driving Cases in Court with Jurisdiction for the Entire County of St. Clair
Dealing with any court proceeding can be an intimidating experience without the guidance of an attorney. By saying the wrong thing without proper representation, you could end up having your case scheduled for jury trial and miss an opportunity to get out of the system.  If you find yourself in this position, getting experienced attorney is crucial to navigate you through the maize of options in the judicial system.
Our firm has represented clients charged with just about every imaginable misdemeanor and  felony crime in the 72nd  District Courts. The following is list of the most prevalent cases that we regularly see on courts' dockets:
Getting out on bond, bond conditions: If you are arrested or arraigned for a criminal matter in the 72nd District Court, you will appear before either a magistrate or judge.  Insofar as possible, it is always advisable to have an attorney present for an arraignment hearing to advocate for a personal bond (where no money needs to be posted) or a for a low cash/10% bond arrangement. In addition to the cash component of bond, the Court can also impose bond conditions and restrictions which can include: travel restrictions, no-contact order, drug and alcohol testing. A no-contact order is assured in domestic violence, stalking, assault and sex crime cases.
Misdemeanor or Felony Classification: In Michigan, the district courts have full jurisdiction to dispose of misdemeanors through sentencing. A misdemeanor is classified as an offense that carries not more than 1 year in jail.  Felony cases are another matter. A felony is classified as a crime that can carry more than 1 year in jail. A felony case is initiated in the district court for the arraignment, probable cause conference and preliminary examination. A felony that is not resolved in the district court will be moved to the St. Clair County Circuit Court in Port Huron for further proceedings. In certain cases, a felony can be reduced to a misdemeanor and then remain in the district court. Accomplishing reduction of a felony to a misdemeanor, thus avoiding a felony conviction, is considered a huge victory.
The outcome of a criminal case in the 72nd District Courts is dependent upon many components.  The most significant factors that can have a bearing on the disposition of a case are:
Prior criminal history of the accused party.
Cooperation with the police.
Whether another party was injured, or property was damaged.
The ability of the accused party to provide restitution for damages.
Whether the offense is a 'policy case' (crimes against senior citizens, children)
All these special provisions of law are possible in the 72nd District Courts which can result in the ultimate dismissal of a criminal matter:
Non-Resident or Canadian: If you reside outside of Michigan, consider getting an attorney that is experienced with the 72nd District Court system and will provide you with efficient representation.
High Number of Drunk Driving Cases in the 72nd District Courts
Based upon 2016 statistics, the St. Clair County Sheriff administered 118 breath tests and 86 blood tests for operating under the influence of alcohol or drugs. The Port Huron police were in second place with 107 breath tests and 43 blood tests. Blood tests are administered to determine the presence of drugs, as a primary test for alcohol in lieu of a breath test or court ordered when a party refuses to give a breath sample. From a total of 354 tests reported by these police agencies (not including other agencies from Clay, Marysville etc.), 131 tests registered a blood alcohol content (BAC) of .08 or greater (OWI) and 108 test results scored a BAC .17 or greater. Operating with a BAC of .17 or higher constitutes a more serious offense commonly referred to as Super Drunk Driving.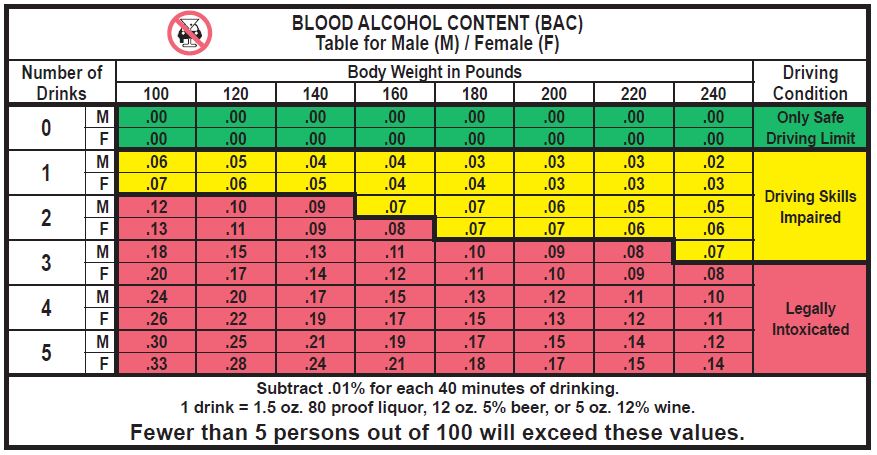 ESTIMATION OF BLOOD ALCOHOL CONTENT (BAC)
1st offense drinking and driving:  For most first time drinking and driving offenders, jail is not likely absent some other aggravating circumstances in the 72nd District Courts. A person without any prior drinking and driving offenses can expect to get an OWI reduced to 'operating while impaired'. It is extremely difficult and rare, but not impossible, to get a drinking and driving offense reduced to a non-criminal offense. In addition to probation, a person convicted for a first drinking and driving offense (operating while impaired) is looking at:
Probation for 1 year or less (non-reporting is possible)
Fines and costs approximately $1,200.00
Restricted license for 90 days (mandatory by Secretary of State)
Possible alcohol or substance abuse program
Possible drug testing, alcohol testing, AA meetings
4 points on driving record (mandatory by Secretary of State)
Super Drunk Driving: If a person is charged with Super DUI (BAC .17 or greater) a deviation may need to be filed to get a plea bargain to a lower offense. Super DUI convictions will result in mandatory license suspension for 45 days followed by a restricted license for a period of 320 days with the requirement of a vehicle breathalyzer ignition interlock device (BAIID). The Court can also order installation of a BAIID on any vehicle driven by a person convicted of any drinking and driving offense, not just a Super DUI.
Repeat DUI Offender: A repeat drinking and driving offender may be looking at a longer period of probation, up to 2 years, with the possibility of possible  jail time.  There are many steps that we can recommend to those charged with a repeat offense to reduce the likelihood of incarceration in the 72nd District Courts
Third Lifetime DUI = Felony: DUI 3rd is a felony/with a maximum penalty of 1-5 years in prison.  Felony matters begin in the district court and can remain in the district court for purpose of sentencing and probation only when reduced to a misdemeanor. Felonies that are not resolved in the district court are moved up to the St. Clair County Circuit Court after the probable cause conference or preliminary examination.
Felony cases are evaluated on a case by case basis in the early stages to determine whether a legal course of action can improve the prospects negotiating a reduction to a misdemeanor.
Court Personnel are Forbidden to Give Legal Advice: Court employees will not tell you if you are eligible to get a criminal charge or drunk driving reduced to a lower offense.  If you plead guilty without a lawyer, you will not be told that the matter could have been handled with a special provision of law to get it dismissed. The path of least resistance, pleading guilty without a lawyer, can be much costlier in the long run.