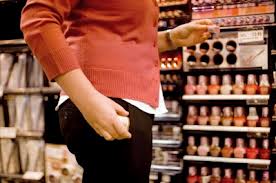 This is an updated article in our series about retail fraud cases which are handled extensively by our criminal defense lawyers in Macomb County. We have posted several other articles relating to retail fraud that are referenced at the end of this article.
Places/courts where retail fraud cases are prevalent, some common variable in retail fraud cases
Retail fraud cases are on the rise and are always one of the most frequently charged misdemeanor offenses in the Macomb County District Courts where we practice.  While every court in Macomb and Oakland County sees its fair share of retail fraud cases, the courts which are located in jurisdictions with shopping malls, mega strip centers and major shopping corridors have the greatest number of retail fraud cases on their dockets for obvious reasons. While each offender has a different reason for committing the offense of retail fraud, some of the common variables that we are seeing in our Macomb County retail fraud cases (especially retail fraud 3rd degree/under $200.00) are as follows:
Our typical client charged with retail fraud is a female without any prior record.
Merchandise such as lingerie and cosmetics are are popular items taken by because they are more easily concealable.
We are seeing more retail fraud crimes occurring within grocery stores for food items at the u-scan point of purchase.
Many of our clients who have been accused of retail fraud have made legitimate purchases at the same time while at the retail establishment.
The value of the property taken is under $200.00.
A list of the courts that would fall in this category are as follows:
Retail fraud = concealing property, changing price tags, knowingly paying less than true price, defeating bar-code scanners
Retail fraud usually involves the act of taking property, usually by concealment, from a retail establishment without paying for it. It may also involve changing price tags, paying less than the actual price by engaging in conduct to defraud the establishment or by intentionally attempting to defeat  a bar-code scanner at the point of purchase. The degrees and penalties for retail fraud are as follows:
Retail fraud penalties: Prior record of offender may increase penalty; possible felony charges
Retail fraud crimes can be charged as a felony or misdemeanor and are classified by the value of the property taken or whether the offender has a prior record. A prior record for larceny, false pretenses or a prior retail fraud may result in enhanced penalties.
Retail fraud 1st Degree, felony: Value of property stolen: $1,000.00 or more Maximum penalty: 5 years imprisonment and/or a fine of not more than $10,000.00 or 3 times the value of the difference in price or property stolen, whichever is greater.
Retail fraud 2nd Degree, misdemeanor: Value of property stolen: $200.00 to $999.99 Maximum penalty: 1 year in jail and/or a fine of not more than $2,000.00 or 3 times the value of the difference in price or property stolen, whichever is greater.
Retail fraud 3rd degree, misdemeanor: Value of property stolen: less than $200.00 Maximum penalty: 93 days in jail and/or a fine of not more than $500.00 or 3 times the value of the difference in price or property stolen, whichever is greater.
Some reasons that someone commits shoplifting or retail fraud, impulsive behavior, 
There are some reoccurring reasons as to "why" a person commits a retail fraud offense. Shoplifting is not limited to those that are downtrodden and underprivileged. In general, our clients are usually the kind of people that have never been in trouble and their conduct can be described as an isolated incident. In extreme cases, we have also represented those that suffer from a compulsive shoplifting disorder. It is our job to work with our clients to understand why he or she engaged in risky behavior so that we can provide effective legal representation and solutions.
Financial distress: The number 1 reason that is given for committing retail fraud is because of family financial turmoil. In cases such as this, we find our clients taking things to maintain the household such as food, household goods and children's clothing. I attribute this to the meltdown of the economy which hit middle class families the hardest.
Impulsive behavior: Impulsive conduct, or acting before you think, is also high on the list of reasons that a person engages in the offense of retail fraud.  Impulsive behavior is not limited to juveniles or youthful offenders. Our Macomb County criminal defense lawyers have represented individuals in every age group and every walk-of life including senior citizens and mini-van-moms who site impulsiveness as a reason for committing an act of retail fraud. However, impulsive behavior is often tied to a trigger. Some common triggers include psychological disorders (anxiety, PTSD, ADD, depression, bi-polar disorder), death of a close family member, loss of a pet, retirement or marital problems.

Prescription medications and drug addiction: Prescription medications for psychological disorders can sometimes cause irrational behavior which leads to a person to commit retail fraud. In these cases, we recommend that our client get a current medical examination and consider engaging the services of a counselor. Drug addicts may commit retail fraud because of financial reasons or to resell goods to fund a drug habit. Again, getting as much background as possible and taking proactive measures before court can make a vast difference in the outcome of a case.
What to expect in the Macomb County District Courts
The outcome of a retail fraud case in the Macomb County Districts Courts will depend upon various factors including:
The prior criminal record of the offender.
The value of the property stolen can make a minor retail fraud offense into a felony.
The proactive measures taken by the offender prior to the first court date.
In a recent Wall Street Journal Article regarding misdemeanor offenses, Judge Thomas Boyd, who handles misdemeanor cases in Ingham County, Michigan, said "he sometimes finds himself arguing with defendants who seem too eager to admit wrongdoing without consulting a lawyer."
While retail fraud cases do not usually involve jail, they can be devastating on a person's permanent criminal record. A retail fraud offense can label an individual as a "thief" or "dishonest" person.
When a client has never been convicted of a crime, we may be able to advocate for a plea bargain to obtain a first offender program (such as HYTA) or petition for a delayed sentence which can result in dismissal of the offense. When someone is charged with felony retail fraud in the first degree, our goal may be to seek a reduction of the felony to a misdemeanor and avoid jail. Our experience has been that most retail fraud cases are resolved favorably by knowing our courts, knowing our clients and taking action prior to the first court date to address underlying problems associated with risky behavior.
Retail Fraud Sterling Heights, Shelby Township, Utica, Macomb Township
Handling Shoplifting Cases in Clinton Township
Most Prevalent Misdemeanor Cases in Macomb County District Courts
What to expect if charged with retail fraud in the 42-1 District Court (Romeo, Washington Township)