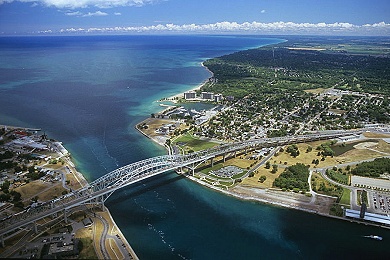 St. Clair County is located in the south eastern part of the thumb area of Michigan. It is the gateway county to the northern thumb and the Great lakes. It is known as the Blue Water Area. St. Clair County borders Macomb, Lapeer and Sanilac Counties and is just a short distance (across the Port Huron River via the Blue Water Bridge) from Sarnia, Ontario, Canada. The Blue Water Bridge is a major international crossing from Canada into the United States. Interstate expressway I-94 runs north and south through St. Clair County, I -69 runs east and west and ends in the City of Port Huron. M-29 is the highway that is located on the eastern shoreline of St. Clair County which takes you in and around the St. Clair River and Anchor Bay. Map of St. Clair County Link.
The eastern side of St. Clair County consists of shoreline on the St. Clair River, Lake Huron, Anchor Bay and Lake St. Clair. The major cities which border these bodies of water are Port Huron (the county seat), St. Clair, Marine City and Algonac. One can enjoy views on the river (freighters, Canada) in any of the cities along these shoreline cities.
Click this link for a live web-cam of the Port Huron River and the Blue Water Bridge.
Recreational attractions in this area include boating, hunting and fishing. The City of St. Clair would be my top pick for dining (Charly's River Crab, St. Clair Inn) or enjoying the charm of a small town with a large park area dedicated along the river. In 2012, more than 50,000 visitors are expected to attend the Blue Water Fest which occurs just prior to the Port Huron to Mackinac Race.
St. Clair County is well guarded and policed because of its international border with Canada and heavy recreational traffic. The courts in St. Clair County see a fair amount of cases associated with recreation violations, DNR violations, border crossing issues (on both the US and Canada side) and drunk driving cases. A drive along the winding highway of M-29 which meanders along the St. Clair River is not a place to be if you have had any alcohol or drugs. In some places, the road is only a matter of feet from the water. Unfortunately, a fair share of accidents and OWI cases occur on this road.
A traffic violation, drunk driving or criminal case (such as domestic violence, disorderly conduct, boating under the influence, drug crimes) in St. Clair County will wind up in the 72nd District Court in either Port Huron or Marine City:
72nd District Court (Port Huron)
201 McMorran Blvd.
Room 2900 Port Huron MI 48060
72nd District Court (Marine City)
2088 South Parker (M-29)
Marine City, MI 48039
The courts and law enforcement officers in St. Clair County tend to be protective of their communities. They have the responsibility of keeping order in an area which has an international border and hosts recreational activities which often involve alcohol. (Jobbie Nooner). Our experience in these courts has been positive. I find the Judges to be reasonable when it comes to first time offenders of criminal acts such as drunk driving, disorderly conduct or simple drug possession charges. Often, such an offender is looking at probation. If the offense involves a first time drug charge or the offender is age 17 but under age 21, a dismissal is possible special Michigan statutes (HYTA and MCL 333.7411).

Contact the ABDO LAW FIRM if you are charged with a criminal offense in St. Clair County, or any other Metro Detroit Court. Our firm will adopt a plan for your particular situation, including if you are a first offender, to improve the outcome of your case.
After being retained, we may ask for you to begin counseling, AA meetings and provide our office with letters of achievement as well as character reference letters (if applicable). We will order discovery (police reports, test results and video) and analyze the evidence. Your input and ours will be utilized in the defense of your case and/or the presentation of a request for a dismissal or deviation request whenever this is a realistic course of action.
We offer our legal services for our neighbors in Canada who may have received a traffic ticket or criminal violation while visiting Michigan. This includes situations like drunk driving or retail fraud.
Call for a free phone or office consultation:
ABDO LAW FIRM Phone: 586-412-5555