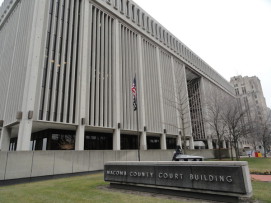 There are many possible outcomes for a criminal felony charge which will depend upon numerous variables that an attorney will need to examine. Since the great majority of our business is in Macomb County, Part 2 of this blog will focus on recent felony cases which our firm has handled in Macomb County, Michigan.
A felony case may be resolved at any stage of the proceedings prior to a finding or plea of guilty. The criminal proceedings which are relevant to felony cases in Michigan are as follows:
1. Criminal Investigation 2. Warrant, Arrest and Booking 3. Arraignment (district court)
4. Preliminary Examination (district court)
5. Arraignment (circuit court)
6. Pretrial Conference, motions, negotiations, evidentiary hearings
7. Trial (circuit court)
8. Pre-sentence Investigation (Conducted by Probation Department)
9. Sentence
There are two (2) recent cases which come to mind that our firm was able to resolve during the criminal investigation without felony charges.
Sterling Heights: The first case involves a person who had authority to handle her friend's financial affairs. The friend died and his family members were seeking criminal charges against her for larceny and/or embezzlement as a trustee. However, our firm spoke with the detective regarding her relationship and explained that she had authority to pay bills and have access to the finances of her friend. Criminal charges were not filed.
Roseville: A landlord contacted our office about a possible criminal charge which was being investigated the Macomb County Prosecutor's Office. Apparently, the landlord took a deposit on a rental property but rented out the property to another person after difficulty with the person who made a deposit. Although there were many misunderstandings in this case, our recommendation to our client was to provide a total refund of the deposit to avoid a felony charge, legal fees and potential guilty verdict.
Here are some examples of cases which our firm resolved at the preliminary examination stage:
Shelby Township: An exceptional result was achieved for our client who was charged with home invasion in the 41-A District Court. Since this case involved a victim of a crime, our client needed to show appropriate remorse. In addition, we were able to make full restitution to the victim for before the Court date. The felony charge was reduced to a misdemeanor which will be dismissed if our client stays out of trouble for one (1) year.

Clinton Township: Our client was charged with felony drunk driving (3rd offense). In 2010, we were able to reduce the drunk driving felony, which could carry a maximum of 5 years in prison, to a misdemeanor offense in the 41-B District Court with no jail. The Court was impressed with the fact that our client was proactive by attending a substance abuse counseling program and several AA meetings.
Warren: In 2011, our client was charged with resisting and obstructing after he consumed various drugs and was confronted by the police. On the date of the preliminary examination in the 37th District Court, we negotiated a reduction of the felony to a misdemeanor, attempt fleeing and eluding. The court agreed to delay the sentence and dismiss the offense if the person complies with the terms of his probation which include random drug testing.
St. Clair Shores: Our client was a precious metals dealer who was charged with tampering with evidence, a felony which can carry up to 4 years in prison. The prosecutor's case, along with our possible defenses, had some weakness. We eventually negotiated a misdemeanor plea in the 40th District Court with no probation; thereby meeting our client's goal to avoid a felony conviction.
All of the above mentioned cases could have resulted in felony convictions. However, in each of these examples, legal strategies were employed to reach desired goals. An experienced criminal defense lawyer will know how to make opportunities for his or her client.
As I mentioned in Part 1, there are special provisions of law available to criminal defense lawyers which can result of dismissals of felony cases. Youthful offenders who are charged with a felony who are age 17 but under age 21, may be eligible to have a felony dismissed pursuant to the Holmes Youthful Trainee Act (HYTA). In addition, first time offenders of felony drug charges (heroin, cocaine, analogues, ecstacy) involving "possession" may be eligible to petition for alternative sentencing pursuant to MCL 333.7411 which will result in dismissal upon compliance with a term of probation. Our firm has utilized both of these provisions of law in every Macomb County Court.
Sometimes the options for a person charged with a felony are limited by the person's criminal history or facts of the case. It is always more challenging for an attorney to overcome obstacles such as a client with a prior felony record or extensive criminal history or when crime involves a victim who is injured, or a minor child. There are also policy cases in Macomb County where the prosecutor's office is precluded from negotiating a plea bargain absent countervailing reasons to relax their policy and grant a deviation.
Our firm has managed several felony cases where the criminal charges could carry life in prison such as terrorism (40th District Court – St. Clair Shores), armed robbery (37th District Court – Warren) and criminal sexual conduct in the first degree (37th District Court – Warren). Plea bargains were achieved in the above mentioned cases for reduction of the charges and avoidance of prison because the odds were against us in winning at trial. These results did not just fall from the clear blue sky but were achieved after the cases languished in system, hearings were scheduled and fierce negotiations transpired.
Management of a felony may mean seeking a reduction in the charges, an agreement regarding sentencing, obtaining a deviation of policy from the prosecutor's office or all of the above. These options, along with trial, should be explored by the criminal defense lawyer.

If you are the subject of a criminal investigation or have been arrested; do not talk to the police and contact the ABDO LAW FIRM. Law enforcement officers are trained and have the upper hand. They will invariably use special interrogation tactics to gain confessions and admissions which can be used to establish criminal activity when the evidence is otherwise deficient or unsubstantial. The Fifth Amendment to the United States Constitution, provides that you have an absolute right to remain silent and that your silence cannot be used against you!
Our goals in every criminal case are twofold: avoid a conviction and avoid incarceration. When a client is charged with any criminal case, misdemeanor or felony, it is our role to scrutinize the facts and apply the law which may weaken the case, promote a favorable plea bargain or lead to an outright dismissal. After being retained, we order police reports and analyze the evidence. This may include obtaining witness statements, hiring a private investigator or doing a crime scene analysis. Your input and ours will be utilized in the aggressive defense of your case. In most situations, our firm is able to resolve criminal cases without trial. In addition, jail is rarely imposed for most offenders who follow our recommendations. We can also advise you regarding forfeiture of assets (usually in drug cases) and whether you should cooperate with the police.
We do not employ mystery and suspense in the relationships with our clients. We are proud to offer you blogs and a website that is user friendly and explains legal topics in plain English. Most of our web pages and blogs are in response to recent legal developments, common legal scenarios or frequently asked questions. This same transparency is evident when you contact our law firm. Whenever possible, we will dispel myths, explain the legal process and give you realistic predictions regarding the outcome of your case. In addition to free consultations, our firm also charges fixed flat rates with no hidden costs.
FREE PHONE & OFFICE CONSULTATION
Call the ABDO LAW FIRM 24 Hours – Messages Forwarded to Mobile Phones Phone: (586) 412-5555