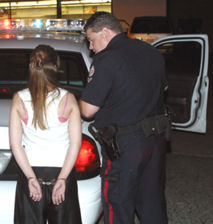 This blog will focus on first offense drunk driving (DUI) cases which our firm handles extensively in all of the district courts in Macomb County, Michigan including the 38th District (Eastpointe), the 39th District (Roseville, Fraser), the 40th District (St. Clair Shores), the 41-A District (Sterling Heights, Shelby Township, Macomb Township, Utica), the 41-B District (Clinton Township, Mt. Clemens, Harrison Township), the 42-1 District (Romeo, Washington Township) and the 42-2 District (New Baltimore and Chesterfield Township).
A life can spin out of control the moment a police officer says, "you are under arrest for drunk driving." For most of our clients that are charged with drunk driving (OWI or DUI), it will be the first time that they have seen the inside of a jail cell. This experience alone will be traumatic and stressful. Upon being released from jail, the person will be given certain documents which include: ticket, temporary license, bond receipt and data-master printout with breath test result (usually a pink form). A person may need to get his or her vehicle out of impound unless there is a hold on the vehicle because of an accident or subject to forfeiture. A person charged with drunk driving should contact an attorney after taking care of immediate needs such as going home, getting some rest and having something to eat.
Our attorneys are involved with drunk driving cases in Macomb County just about every day. This means that we are either attending a court hearing in one or more district courts, talking to someone on the phone or meeting with a new client at our office. We are often able to make predictions about the outcome of drunk driving cases in Macomb County as well as other jurisdictions where we actively practice including Oakland County, Wayne County and the Grosse Pointe Courts.
Here are just a few questions that we ask when we get a new drunk driving phone call:
1. Where was the arrest (Clinton Township, Warren, Sterling Heights, Grosse Pointe, Troy)?
2. Who was the arresting agency (Michigan State Police, Macomb County Sherriff Department, Roseville Police Department)?
3. Why did the police stop the vehicle (speeding, weaving, accident, defective equipment)?
4. What was the data-master or chemical test result?
5. If the person refused the data-master breath test, did the police get a search warrant for blood?
6. Were any other passengers (possible witnesses) in the vehicle?
7. The number of drinks consumed and the time frame that they were consumed (7 drinks in 3 hours)?
8. When did the person stop drinking before operating a vehicle (quit drinking at 2:00 a.m., left the bar at 3:00 a.m., stopped by police at 3:30 a.m)?
There are other concerns, questions and issues which we address in the early stage of a drunk driving case including: whether the vehicle is being seized or forfeited, whether the person has a prior criminal record or drunk driving convictions, whether the person has a substance abuse problem or whether their was an accident involving damage to property or a personal injury.
In part 2, I will discuss the Court process for first offense drunk driving cases .