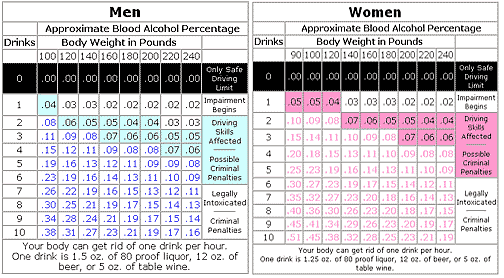 Since September 30, 2003, the legal limit for operating while intoxicated in the State of Michigan has been .08 per cent or greater. Prior to that time, the legal limit was .10 per cent or greater.
According to a report on WXYZ, the legal limit of .08 percent reverts to .10 percent in October 2013 unless lawmakers in Lansing rule otherwise. Mother's Against Drunk Driving (MADD) is lobbying to keep Michigan's blood alcohol content law at .08 percent for individuals who operate a motor vehicle. The report headline is, "MADD calls on lawyers to keep Michigan's BAC law at .08 percent to prevent drunk driving". According to Republican Rep. Andrea LaFontaine of Columbus Township, Michigan must maintain its .08 percent law to avoid violating federal drunken driving standards and continue receiving federal funding. The .08 limit was adopted in every state as part of an initiative during the Clinton administration by the National Highway Traffic Safety Administration.
It is my opinion that Michigan will retain the BAC legal limit of .08 percent.
A person who is not physically impaired or drunk can be convicted of OWI or Super Drunk!
Under Michigan law, a person is considered to be Operating While Intoxicated (OWI) or drunk driving, if he or she has a BAC of .08 per cent or greater, regardless of actual intoxication. If the BAC is .17 percent or greater, the charge is upped pursuant to Michigan's High BAC law, also known as Super Drunk Driving. Therefore, a person can be charged and convicted of drunk driving, or Super Drunk Driving, even though the person was not impaired or drunk!

How is blood alcohol content determined?
The blood alcohol content is determined by one or more tests. The most popular test is the breath test. A common instrument to obtain a breath sample is the Datamaster. The Datamaster operator must follow complex instructions or there may be grounds to suppress the test result.
What are the consequeneces for refusal of a breath test or chemical test to determine BAC?
There are consequences when a person refuses a test to obtain his blood alcohol content pursuant to Michigan's Implied Consent Law. A first time refusal of a chemical test will result in 6 points and license suspension for 1 year. In addition, a search warrant for a blood sample may be obtained by the police when a person refuses the chemical test offered by the arresting agency.
Are BAC charts accurate?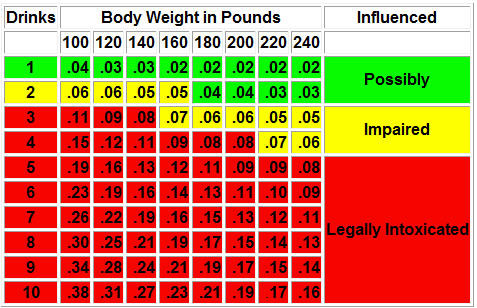 From a legal standpoint, no amount of alcohol should be consumed prior to the operation of a motor vehicle. However, there are many drink/weight index charts on-line that give an estimated BAC. In addition, a portable breath test can be obtained from many sources. Again, any consumption of alcohol can be a risky proposition and is not recommended prior to the operation of a motor vehicle.
How much does a drunk driving case cost?
Here is an estimated range of fees and costs upon conviction for a first offense drunk driving:
-Attorney Fees: $2,500.00 to $25,000.00 (depending upon motions, trials, deviation requests)
-Fines/Costs: $800.00 to $2,000.00 -Driver Responsibility Fees: $1,000.00 to $2,000.00
-Substance Abuse Assessment: $150.00 -Probation Oversight Expenses: Up to $1,200.00 ($50.00 per month for max of 2 years)
-Insurance: (See Link) $3,000.00 to $6,000.00 per year for 5 years -Alcohol Counseling: $1,000.00 -Other Possible Costs: Vehicle immobilization, costs of prosecution, municipal/police response costs, vehicle forfeiture
It is imperative that a person charged with drunk driving retain a lawyer as soon as possible. An experienced lawyer will often know when a drunk driving conviction can be avoided or what action needs to be taken to get the best results and avoid many of the harsh consequences associated with a drunk driving conviction.
The ABDO LAW FIRM has been actively representing clients charged with drunk driving in every Macomb County court since 1980.

Our goals in every criminal case or drunk driving are twofold: avoid a conviction and avoid incarceration. When a client is charged with any criminal case, misdemeanor, drunk driving or felony,
We do not employ mystery and suspense in the relationships with our clients. We are proud to offer you blogs and a website that is user friendly and explains legal topics in plain English. Most of our web pages and blogs are in response to recent legal developments, common legal scenarios or frequently asked questions such as (Can my case be dismissed if I wasn't advised of my Miranda Rights? Am I entitled to make a phone call if I am arrested?) This same transparency is evident when you contact our law firm. Whenever possible, we will dispel myths, explain the legal process and give you realistic predictions regarding the outcome of your case. In addition to free consultations, our firm also charges fixed flat rates with no hidden costs.
Please feel free to browse our criminal law case results and client testimonials.
FREE PHONE & OFFICE CONSULTATION
Call the ABDO LAW FIRM 24 Hours – Messages Forwarded to Mobile Phones Phone: (586) 412-5555
Specializing in Criminal Defense and Drunk Driving since 1980!