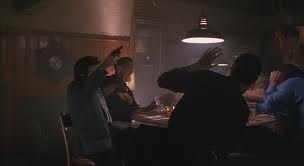 The offense of Assault with a Deadly Weapon (ADW), is also known as Felonious Assault in Michigan. ADW is felony which is punishable by up to 4 years in prison. ADW is a crime which involves an assault with a deadly weapon (such as a gun or knife) or any other instrumentality which is fashioned or used as a weapon (car, club, bottle) which is capable of inflicting serious bodily injury or death. A criminal charge or conviction does not require actual physical contact or an injury. The offense is considered complete upon placing another in fear of an assault by a person who possesses a deadly weapon. A person charged with ADW in Michigan may assert several defenses including: lack of intent or self- defense.
INTENT: The prosecutor must prove that a person had criminal "intent" to cause an injury or an intent to put the victim in reasonable fear of an immediate battery. Unfortunately, our criminal defense lawyers have seen many misunderstandings and over charged cases when a person is in possession of a weapon or object during a heated argument which is never intended to be used aggressively to harm anyone. This often is the case in domestic violence cases where a spouse or significant other is intoxicated and angry, has a knife or dangerous instrumentality and utilizes ambiguous words which are misconstrued in the charging process. I think the police are more apt to charge ADW to be on the safe side and avoid being accused of being lenient on domestic violence offenders. An aggressive criminal defense lawyer can often neutralize the situation by exposing weaknesses in the prosecutor's case.
DANGEROUS WEAPON: In addition to the element of "intent", ADW requires that the aggressor have a weapon or object which can inflict death or great bodily harm. A plethora of objects have been declared to be dangerous weapons in cases which involve ADW. A car, golf club, shoe boot, cane, ashtray or beer bottle have been construed to be dangerous weapons which may support a conviction of ADW.
ADW and assault crimes are closely associated with Domestic Violence cases which our firm handles extensively. As criminal defense lawyers in Macomb County, we have successfully defended ADW cases and have avoided felony convictions and jail for our clients. Avoidance of a felony conviction can occur by effective plea bargaining to have the felony charge of ADW reduced to a misdemeanor such as simple assault and battery. Every detail is important in the defense of an ADW case. The facts may indicate that a person was acting in self-defense or lacked the requisite intent. The prior assaultive history of the defendant and victim are also relevant. The mental health history of the parties may also come into play. This information may be utilized to resolve a case before trial even though the same evidence may not be admissible at trial because of relevancy, privilege or hearsay pursuant to the Michigan Rules of Evidence.

Upon being charged with an assault crime, domestic violence or serious felony such as Assault with a Deadly Weapon, a no-contact order may be entered while the case is pending and the accused may be required to surrender his firearms to authorities.
Contact the ABDO LAW FIRM if you are charged with a criminal offense (misdemeanor or felony), drinking and driving offense, including Operating While Intoxicated, Operating While Impaired or High BAC (.17% or higher).
After being retained, we may ask for you to begin counseling, AA meetings and provide our office with letters of achievement as well as character reference letters. We will order discovery (police reports, test results and video) and analyze the evidence. Your input and ours will be utilized in the defense of your case.
Call for a free phone or office consultation:
ABDO LAW FIRM Phone: 586-412-5555