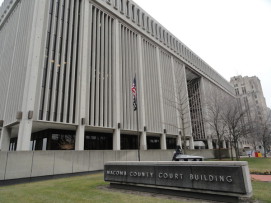 Our attorneys have handled numerous felony offenses including all of the top 50 felony cases in Michigan. Without a doubt, we know that a person who is investigated or charged with a criminal felony offense will feel agony and despair during this process. I have prepared this blog to dispel some of the myths about felony cases and to clarify some of the realities. In Part 2, I explain various possible outcomes for felony cases based upon our firm's experience in the Macomb County Courts.
According to Wikipedia, a felony is generally considered a crime of high seriousness. In the federal system, a felony is a crime punishable by death or imprisonment in excess of one (1) year. If punishable by exactly one year or less, it is classified as a misdemeanor. The classification for felony and misdemeanor offenses is similar in Michigan. However, Michigan laws contain offenses which are known as "high court misdemeanors" that can carry up to two (2) years imprisonment.
The word "felony" can make an otherwise healthy person feel sick and conjure up images of concrete prisons with barbed wire fences. A person charged with a felony may experience disturbing physical and psychological symptoms including upset stomach, headaches, restlessness, depression, dizziness, confusion, isolation and panic. Once charged with a felony, an individual may automatically think about the worst case scenario until he or she has a consultation with an experienced criminal defense lawyer. I like to compare this to a person who thinks he is having a heart attack until he goes to the doctor only to discover that he has indigestion.
After the first consultation, an experienced criminal defense lawyer is often able to set realistic goals and provide a fairly accurate prediction regarding the outcome of the case. However, attorneys are bound by the Professional Code of Responsibility. While an attorney may make a prediction or render an opinion, he or she is prohibited from making a guarantee regarding the outcome of a criminal case. This means that an attorney cannot say, "I guarantee that you will not go to jail" or "I guarantee that that the charges will be dismissed." However, an attorney may provide a prediction or estimate regarding the outcome of a case based upon prior experience.
Almost anyone charged with a felony is mostly concerned about their criminal record and the possibility of jail time. First of all, let me say that a felony conviction does not automatically mean jail time. In fact, most felony crimes can be managed where the person will be placed on probation. This is especially true for offenders who do not have any prior criminal record. Similarly, based upon our experience, our firm knows when there is a good chance that a felony can be reduced to a lower offense or a possible misdemeanor to avoid the stigma of a felony conviction. Lastly, we are familiar with various Michigan laws that can be used to gain dismissals of felonies under certain circumstances as I will discuss in Part 2. Of course, every client has a Constitutional right to a trial pursuant to the 6th Amendment and should never plead guilty to an offense which he or she did not commit.
You should retain a lawyer if you are the subject of a criminal investigation or believe that there is a felony warrant for your arrest. An attorney can provide prudent legal advice and proactive legal services in many respects including:
-Advising a client to remain silent or consenting to a police interview -Arranging a court date to avoid an arrest on a felony warrant -Gathering witness information before charges are filed -Negotiating the case before charges are filed
-Hiring a private investigator or forensic expert (examine computer, bank activity)
-Being present at arraignment to address bond and release of a client
Click here for Part 2: Management of Felony Criminal Cases In Macomb County
If you are the subject of a criminal investigation or have been arrested; do not talk to the police and contact the ABDO LAW FIRM. Law enforcement officers are trained and have the upper hand. They will invariably use special interrogation tactics to gain confessions and admissions which can be used to establish criminal activity when the evidence is otherwise deficient or unsubstantial. The Fifth Amendment to the United States Constitution, provides that you have an absolute right to remain silent and that your silence cannot be used against you!
Our goals in every criminal case are twofold: avoid a conviction and avoid incarceration. When a client is charged with any criminal case, misdemeanor or felony, it is our role to scrutinize the facts and apply the law which may weaken the case, promote a favorable plea bargain or lead to an outright dismissal. After being retained, we order police reports and analyze the evidence. This may include obtaining witness statements, hiring a private investigator or doing a crime scene analysis. Your input and ours will be utilized in the aggressive defense of your case. In most situations, our firm is able to resolve criminal cases without trial. In addition, jail is rarely imposed for most offenders who follow our recommendations. We can also advise you regarding forfeiture of assets (usually in drug cases) and whether you should cooperate with the police.
We do not employ mystery and suspense in the relationships with our clients. We are proud to offer you blogs and a website that is user friendly and explains legal topics in plain English. Most of our web pages and blogs are in response to recent legal developments, common legal scenarios or frequently asked questions such as (Link: Can my case be dismissed if I wasn't advised of my Miranda Rights? Am I entitled to make a phone call if I am arrested?) This same transparency is evident when you contact our law firm. Whenever possible, we will dispel myths, explain the legal process and give you realistic predictions regarding the outcome of your case. In addition to free consultations, our firm also charges fixed flat rates with no hidden costs.
Please feel free to browse our criminal law case results and client testimonials.
FREE PHONE & OFFICE CONSULTATION Call the ABDO LAW FIRM 24 Hours – Messages Forwarded to Mobile Phones Phone: (586) 412-5555