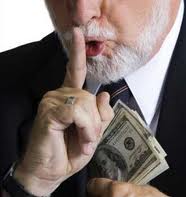 In Michigan, the offense of embezzlement is a crime of opportunity which is committed by someone who is in a position of trust (such as a cashier or teller) or in a special position to care for the property of another (accountant, bookkeeper). The recession has caused financial hardship for many of our clients in Macomb County and Oakland County. The housing crisis, stock market decline and bleak employment situation hit many people at a time when they were funding retirement plans and college educations. After 2007, embezzlement crimes soared in the United States. Unfortunately, desperation, poverty, drug use and opportunity are causes why otherwise law abiding people break the law to make ends meet.
Embezzlement Penalties
Wikipedia defines embezzlement as the act of dishonestly appropriating or secreting assets by one to whom such assets have been entrusted. Embezzlement is covered in the Michigan Penal Code at MCL 750.174. The maximum penalties are as follows:
Value of Property Embezzled         Maximum Penalties
less than $200.00                                    93 days imprisonment, $500.00 fine*
$200.00 to $999.99                                 1 year imprisonment, $2,000.00 fine*
$1,000.00 to$19,999.99                           5 years imprisonment, $10,000.00 fine*
$20,000.00 to $49,999.99                      10 years imprisonment, $15,00.00 fine*
$50,000.00 to $99,999.99                      15 years imprisonment, $25,00.00 fine*
$100,000.00 or greater                           20 years imprisonment, $50,00.00 fine*
*Fine may be up to 3 times value of embezzled property.
Our Clients

I can say that most of the clients that are charged with embezzlement made bad decisions while under financial stress, depression, or other hardship such as a divorce or death of a loved one. As Macomb County criminal defense lawyers, we attempt to identify the underlying cause or reason for the embezzlement and make recommendations accordingly which may include counseling or substance abuse rehabilitation. For the most part, our clients that engage in embezzlement do not have any prior criminal record.  A majority of our clients are conservative with traditional family values and lifestyles. In other words, they do not fit the typical description of a criminal nor do they have the personality of a deviant.
There is Hope:  Positive Results Achieved in Embezzlement Cases
The embezzlement activities come to an abrupt halt when the employer discovers a paper trail of excessive inappropriate transactions and the suspected party is confronted by the police or employment security department. By the time we are retained, our clients have already faced termination of employment and may have been interviewed by the police without our involvement.  I can say that many clients have expressed relief in this scenario.  They explain that are just tired of being stressed and worried about being caught.  They also understand that they have engaged in a cycle of repetitive destructive conduct that was not likely to end without some legal intervention. Now, the client is faced with certain criminal prosecution and will need a lawyer. Fortunately, there are many ways that an embezzlement case can be resolved.
Most embezzlement cases are carefully investigated before the accused party is remotely aware. This means that the accused party has been monitored and a paper trail of evidence has already been gathered.  When confronted, the accused may also be someone who makes a confession to the employer and the police. The confession is admissible against the accused party unless it is made involuntarily, coerced or made under some threatening or unconscionable conditions.  Faced with strong evidence by the employer, our best course of legal action is to seek a favorable plea bargain.  Plea bargaining embezzlement cases is sensitive because the victim is usually someone who feels betrayed by a trusted employee. In addition, all embezzlement cases will require repayment, or restitution, as part of any plea bargain. Our goals  in plea bargaining embezzlement cases may include one or more of the following:
Avoidance of jail
Reduction of a felony to a misdemeanor
Negotiating a reduction in over-stated restitution
Seeking a delayed sentence pursuant to MCL 771.1 for sentence leniency
Seeking a dismissal pursuant MCL 771.1 after a deferred period of time (usually 1 year)
Seeking dismissal of multiple charges for expungement eligibility (*only 1 felony is eligible for expungement)
Obtaining HYTA status for eligible offenses (currently age 17 but before age 24)
* The prosecutor may opt to bunch multiple incidents of embezzlement for a single charge or seek multiple separate charges for each incident and obtain a complaint or indictment with several charges/counts based upon each incident.
Our blogs are based upon our personal experience as criminal defense lawyers.  For more information about embezzlement, restitution, plea bargaining, sentencing or other areas of criminal law, please review our website and other blogs published by ABDO  LAW.